Posts Tagged 'john wooden'
Posted by Larry Doyle on July 28th, 2011 7:31 AM |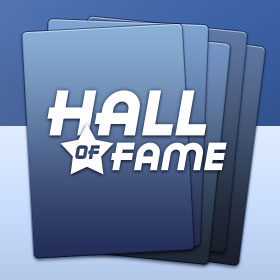 For those who love baseball, summer is not only a time for taking in a ballgame (like today's matinee at Fenway Park between our beloved 1st place Boston Red Sox and the Kansas City Royals) but also for paying a visit to the Hall of Fame.
Baseball fans of all ages love to make the pilgrimage to the hallowed hall in Cooperstown, New York.
Fans of Sense on Cents are well aware that yours truly has inducted worthy and deserving recipients into both wings of our own hall here over the course of the year. Just yesterday, I inducted Muddy Water's Carson Block into the Sense on Cents Hall of Fame.

While I take the boys to the ballpark, I hope readers, both new and old, may like to pay a visit to the Sense on Cents Halls of Fame and Shame a/o year end 2010.
I provided the following ceremonial tribute and induction at the end of last year.
Enjoy!! (more…)
Posted by Larry Doyle on December 17th, 2010 7:20 AM |
What competitive individual worth his salt does not want to 'gain the edge'? Have you ever come across successful individuals–success being a very relative term–who did not want to 'gain an edge' and then widen the gap with the competition? I haven't.
I had fully intended on writing this morning about the ongoing developments in the insider trading scandal sweeping across Wall Street. 'Gaining the edge' is very much the common thread that runs through this story. The lengths to which selected individuals would go to 'gain that edge' make for interesting reading. The wearing of wiretaps by informants adds to the intrigue. Where will the story lead? Which hedge funds may be implicated? What 'masters of the universe' may fall while pursuing their untold riches and accompanying success?
Then I thought, why would I want to take readers into this seamy world and give attention to those who may break the rules to 'gain that edge.' I don't. At least not today. (more…)
Posted by Larry Doyle on January 4th, 2010 9:47 AM |
For those who missed last evening's No Quarter Radio's Sense on Cents with Larry Doyle Hall of Fame and Shame Induction, I am compelled to provide a recap and listing of all those honored or dishonored — depending on one's perspective. What was the measuring stick to make these assessments? Very simply, the pursuit and promotion of truth, transparency and integrity as we navigate the economic landscape.
Some names you will immediately recognize, others you may not. Additional information about these individuals can be found via the search window (located above the right sidebar) at Sense on Cents. The names appear in no specific order of priority or importance. With no further adieu . . .
Sense on Cents 2009 Hall of Shame Inductees
1. Bernie Madoff
2. Nicholas Cosmo: ran financial scam at Agape World
3. Tim Geithner: tax cheat amongst other things
4. Larry Summers: arrogant, condescending, and sleep deprived
5. Auction-Rate Securities dealers and managers, especially Oppenheimer Holdings, E-Trade, Schwab, Pimco, Van-Kampen, Blackrock
6. The Wall Street Journal
7. George Soros
8. Chris Dodd (D-CT): reasons too numerous to mention
9. The Board of FINRA
10. Franklin Raines and Leland Brendsel: former CEOs of Fannie and Freddie
11. Wall Street management, especially Lloyd Blankfein of Goldman Sachs
12. Frank Dipascali: a special place in hell for Madoff's CFO
13. Rahm Emanuel
14. Jimmy Cayne: CEO of Bear Stearns
15. Dick Fuld: CEO of Lehman Bros.
16. Congress collectively
17. Barney Frank (D-MA): reasons too numerous to mention, but start with "I want to roll the dice…"
18. Bank Stress Tests: a total sham
19. Allen Stanford
20. Steven Rattner: car czar
21. Bruce Malkenhorst: receiving a 500k pension from Vernon, CA
22. Barack Obama: just another politician (more…)
Posted by Larry Doyle on November 27th, 2009 12:47 PM |
The measure of real value is whether something can stand the test of time. While certain individuals, products, or principles appreciate over time, others dim as time passes. Society also has a funny way of embracing new and valued concepts in an attempt to market and materialize definitions of happiness.
In the midst of the noise and volatility of our current financial market and economic landscape, I treasure those principles which are often overlooked and under-appreciated. These principles include: discipline, simplicity, selflessness, loyalty, drive, humility, relationships, integrity, love. While without being judgmental it is not difficult to identify individuals or situations lacking these timeless traits, how often are we able to identify individuals or situations embracing these characteristics?
This morning, I witnessed just such an individual. Who might that be? My favorite coach of all-time, John Wooden. I have not only read most of Coach Wooden's works, but I have had the good fortune of chatting with one of his former players, Gail Goodrich (UCLA '65, 14 year NBA career, Basketball Hall of Fame inductee '96), about Coach Wooden. While I wish I knew Coach Wooden personally, I cherish the character of the man. In fact, in this day and age of immediate gratification, John Wooden's lessons should be highlighted as a path to long-term success and happiness.
As we collectively navigate the economic landscape and look for examples and exemplars of 'how then shall we live,' John Wooden is a great model. I welcome sharing a video clip recently produced of this 99 year old marvel. I hope you enjoy it as much as I did. In reviewing it, I hope you can see that Wooden's love story is not merely a sweet tale of an elderly man. Look deeper and see that Wooden is providing insights and lessons on life itself.
If you care to learn more about the greatest coach ever, check out Wooden's book, They Call Me Coach, which I have highlighted here at Sense on Cents from the very first day I started this blog. That's how highly I think of Coach Wooden.
LD