Posts Tagged 'Rick Davis of Consumer Metrics Institute'
Posted by Larry Doyle on January 20th, 2012 11:12 AM |
How does one measure the real health of an economy that continues to adjust to massive structural changes and has become dependent on various lines of cheap funding provided by Uncle Sam?
Not easily.
It has been a little while since we have navigated upstream to get a real read on the pulse of our economy from one of our Sense on Cents favorites. I am speaking of Rick Davis of Consumer Metrics Institute, who recently penned a commentary entitled, Taking a Closer Look at Mixed Signals.
Rick always provides fabulous insights, and with this review he once again does not disappoint. His navigation system offers the following . . . (more…)
Posted by Larry Doyle on August 4th, 2011 5:08 PM |
"Everybody out of the pool" and "Adult Swim Only" are phrases that ring in my ear from my trading days at Bear Stearns. A long lost friend (God bless you, buddy!!) would bellow those statements when markets plunged like today.
What has recently drained the liquidity and lowered the water level in our equity market 'pool'?
A number of critically important factors have been building and continue to haunt us.These include:
1. Meltdown in European sovereign debt. This is not and should not be a surprise. The meltdown was merely a matter of time. The outstanding question remains the depth and breadth of the meltdown. Stay tuned as risks remain very high.
2. The dysfunction in Washington truly displayed how screwed up our political dynamic is while shedding light on the enormity of our national debt and deficit. This reality is not changing anytime soon. Stay tuned as risks remain very high.
Posted by Larry Doyle on July 28th, 2011 7:31 AM |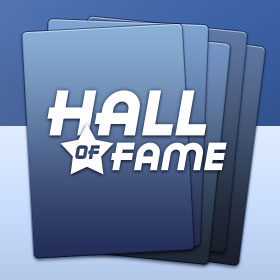 For those who love baseball, summer is not only a time for taking in a ballgame (like today's matinee at Fenway Park between our beloved 1st place Boston Red Sox and the Kansas City Royals) but also for paying a visit to the Hall of Fame.
Baseball fans of all ages love to make the pilgrimage to the hallowed hall in Cooperstown, New York.
Fans of Sense on Cents are well aware that yours truly has inducted worthy and deserving recipients into both wings of our own hall here over the course of the year. Just yesterday, I inducted Muddy Water's Carson Block into the Sense on Cents Hall of Fame.

While I take the boys to the ballpark, I hope readers, both new and old, may like to pay a visit to the Sense on Cents Halls of Fame and Shame a/o year end 2010.
I provided the following ceremonial tribute and induction at the end of last year.
Enjoy!! (more…)
Posted by Larry Doyle on September 27th, 2010 7:21 AM |
The study of human behavior may be considered a science but to me it is the greatest and most challenging of arts. Why is that? For the very simple reason that while we are limited in the ability to study human behavior by reviewing the past, we are challenged by the fact that future behaviors are forever changing. The lessons of the past often do repeat themselves in the future; however, the environment of the PRESENT has NEVER truly been experienced so our current and future behaviors are so hard to forecast. Thus, is economics more art or science? Perhaps we can cover both bases and call it as much an art as a science especially in the Uncle Sam Economy circa 2010.
I raise this topic based upon a recent commentary put forth by a Sense on Cents favorite site, Consumer Metrics Institute. Rick Davis continues to paint an exquisite work as he recently penned, The Diverging GDP,
Prior to each revision to the GDP we are asked for insights into the likely course of those corrections from the Bureau of Economic Analysis ("BEA") of the U.S. Department of Commerce. Most of the questions we have received recently center on the increasing divergence of our Daily Growth Index from the BEA's GDP over the past couple of quarters: (more…)
Posted by Larry Doyle on July 30th, 2010 9:14 AM |
2nd quarter 2010 GDP was just released and registered growth of +2.4% versus consensus expectations of +2.6%. Slightly weaker than expected, and we can all move on perhaps? Not so fast.
1st quarter GDP was revised from its supposed final reading of +2.7% to a newly revised 3.7%!! So the economy was that much stronger in the 1st quarter than previously thought that the 2.4% 2nd quarter reading is actually not all that bad. Again, not so fast. Let's continue to peel the onion a little further.   (more…)
Posted by Larry Doyle on July 27th, 2010 6:10 AM |
2nd quarter earnings are certainly coming in stronger than expected, and our equity markets are having a solid rebound this month. Are these earnings reflective of real underlying strength in the economy or corporations that are now operating more efficiently?
Has our economy hit a soft patch? Is it declining? Are we rebounding from a recent downturn? Might we experience a real double dip?
The initial reading of 2nd quarter GDP is due this Friday. To say that it is highly anticipated would be a huge understatement. Consensus expectations for 2nd quarter GDP are running between +2.5% and +3%. Recall that the final 1st quarter report registered a +2.7% reading.
A Sense on Cents favorite has a decidedly different view of 2nd quarter economic activity and the subsequent GDP. (more…)
Posted by Larry Doyle on July 15th, 2010 7:30 AM |
Are you sitting down?
Rick Davis recently wrote, "Unless the economy begins to pick up quickly, a double dip is likely — with the second round milder but lingering longer than the first." How can our Sense on Cents Hall of Famer make this projection?
Rick sheds tremendous insights on the credit contraction ongoing and seemingly worsening in our nation's economy. Davis paints a cogent picture as to how we are within weeks of the 2010 economic slowdown being worse than the 2008 recession at the same point in the cycle. You think I'm exaggerating? Hats off again to the fabulous work done by Rick Davis at Consumer Metrics Institute. Let's navigate.
July 13, 2010 – Behind the Credit Numbers:

During the past week there has been a flurry of Federal Reserve reports and commentary concerning the levels of credit in the current economy. The two most notable were: (more…)
Posted by Larry Doyle on June 30th, 2010 9:41 AM |
How would you like to have the answers to a quarterly report before other participants have even thought that the activity is occurring, data is being compiled, analysis is being rendered, and the results are released? That would truly be awesome, wouldn't it?
Can you imagine college students knowing the answers to their final exam before other students have even registered for the class? A doctor successfully making the diagnosis, while other doctors are waiting for the patient to arrive at the hospital? How about  a weatherman pinpointing forecasts literally months in advance? Well, in my opinion, the work produced by Rick Davis of Consumer Metrics Institute is the economic equivalent of these seemingly miraculous calls. (more…)
Posted by Larry Doyle on May 27th, 2010 6:54 AM |
Is the economy slipping into a double dip or has it already slipped and we just need to wait a few months for the mainstream media to hopefully report on it?
Clearly, our domestic and global economies are very fluid and subject to serious fluctuations given the massive amount of government intervention, but where can we go to receive a real-time look at the economy?
Let's review the work of Sense on Cents Hall of Famer Rick Davis of Consumer Metrics Institute. Recall that Rick and his colleagues capture and review a wealth of consumer retail data across ten sectors of our economy on a 'real time' basis. While analysts are downstream assessing developments with production, Rick and team are way upstream assessing what the consumers are doing NOW. Current consumer activity is highly correlated with GDP out 17-18 weeks. Yes, we are getting a sneak peek at next quarter's GDP now. Amazing stuff.
What does Rick see and what does he project? Let's navigate. (more…)
Posted by Larry Doyle on May 1st, 2010 9:53 AM |
UPDATE: This episode of NQR's Sense on Cents with Larry Doyle has concluded. You can listen to a recording of the episode in its entirety by clicking the play button on the audio player provided below. Once the audio begins, you can advance or rewind to any portion of the episode by clicking at any point along the play bar.
*********************************************
Tomorrow evening, Sunday May 2nd from 8-9pm ET, No Quarter Radio's Sense on Cents with Larry Doyle Welcomes Back Rick Davis of Consumer Metrics Institute. If you have even a passing interest in the economy and the markets, take the hour and listen to this show. You will not be disappointed.
I first introduced Rick Davis of the Consumer Metrics Institute to the Sense on Cents audience on March 27th. The positive response to my interview with Rick was overwhelming. At that point in time, I realized Rick's amazingly thoughtful and insightful analysis of the economy was not only way ahead of the curve but was truly focused on providing real truth, transparency and integrity across our economic landscape. (more…)