Archive for June, 2011
Posted by Larry Doyle on June 30th, 2011 4:29 AM |
I strongly believe that the marketing and distribution of auction-rate securities was the single greatest scam perpetrated on investors by Wall Street.
While a full forty months have passed since the ARS market failed that fateful day in February 2008, approximately $100 billion of the original $330 billion ARS remain frozen.
Many thousands of investors continue to wonder if they will ever get a full return of their cash locked up in what were supposedly 'cash-alternative', 'cash-surrogate', 'totally liquid', 'as good as cash', 'money market type' instruments.
Forty plus months. $100 billion. You think you have stress. Place yourself in the position of these investors. Sense on Cents continues to bang the drum for ARS investors and now we witness two more 'wins' but one real 'disappointment' on the ARS front. Let's navigate.
Posted by Larry Doyle on June 29th, 2011 1:59 PM |
Do those in Congress know how to read? Do they open their mail?
News is leaking that Congress may be inclined to have Wall Street's self-regulator, FINRA, gain oversight of the investment advisory industry. That industry is currently regulated by the SEC and operates under a fiduciary standard.
The industry is fighting tooth and nail NOT to be regulated by FINRA which regulates broker-dealers under the less stringent suitability standard.
While the investment advisory industry and FINRA are duking it out, let's return to my initial questions. Do those in Congress know how to read? Do they open their mail? Why do I ask?  (more…)
Posted by Larry Doyle on June 29th, 2011 6:44 AM |
They must think we're stupid.
News that Bank of America is poised to pay an $8.5 billion settlement in a claim by investors that the firm and a predecessor sold packages of loans/securities which did not meet standards and provide proper disclosures is a joke. Regrettably the joke is on us, that is, the citizens of this great land.
$8.5 billion may be a lot of money but what price warrants real justice? (more…)
Posted by Larry Doyle on June 28th, 2011 9:52 AM |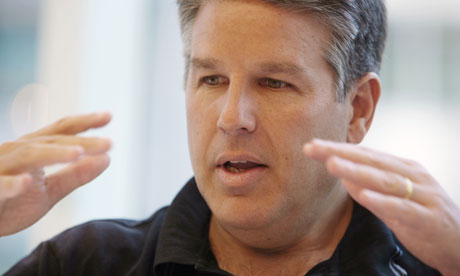 While America clearly needs real change in terms of how our financial and political systems operate and interact, regrettably we continue to suffer from the fact that, "the more things change, the more they truly stay the same."
We hear plenty from Tim Geithner, Mary Schapiro, and Jamie Dimon. We really need to hear more from Sheila Bair (highlighted this morning at Sense on Cents), Gary Aguirre, and Bill Cohan.
While regular readers of Sense on Cents may be familiar with Bair and Aguirre, Cohan has received less attention here. I will look to change that. (more…)
Posted by Larry Doyle on June 27th, 2011 8:54 AM |
SHAME AND OUTRAGE
Have we as a nation become so numbed by the level of transgressions and incompetence within our financial and political circles that we allow situations deserving of real shame and outrage to pass by with little exposure and highlight?
Perhaps when there are so many situations over a protracted period, the shame and outrage which needs to be directed at so many within our financial and political circles is overwhelmed by so much bulls&%t and pandering.
Sense on Cents has little appetite for the latter and an insatiable appetite for the former in an attempt to promote our virtues of truth, transparency and integrity.
On this note, in the midst of my weekend reading, I came across a few gems which stopped my reading and had me thinking, "you have got to be kidding me!! How the hell does this pass by without greater attention and outrage."  (more…)
Posted by Larry Doyle on June 24th, 2011 7:58 AM |
Lisa Benson captures the opinion of many as to just why the Obama administration moved to release strategic oil reserves.
Larry Doyle
Isn't it time to subscribe to all my work via e-mail, an RSS feed, on Twitter or Facebook?
Please get your friends and colleagues to do the same. Thanks!!
I have no affiliation or business interest with any entity referenced in this commentary. The opinions expressed are my own. I am a proponent of real transparency within our markets so that investor confidence and investor protection can be achieved.
Posted by Larry Doyle on June 23rd, 2011 11:30 AM |
UPDATE: I referenced the potential similarity in the cases of alleged financial scammer Allen Stanford and noted Boston gangster James J. "Whitey" Bulger in May 2009.
Our nation and especially Stanford Financial investors continue to wait to learn what may have really happened with Allen Stanford. Was he a pawn for the Department of Justice and/or other government agencies looking to infiltrate the Central and South American drug trade?
As for Whitey, after sixteen years of living on the lam, we wait no longer as news broke overnight that the notorious South Boston gangster was picked up in sunny Santa Monica, California. (more…)
Posted by Larry Doyle on June 23rd, 2011 8:32 AM |
You do not need to read Sense on Cents to know that Wall Street and America have problems. That said, the future of both the financial services industry and our nation are inextricably linked.
The innovative ideas which our nation must generate to drive future growth and employment require capital. Wall Street has that capital. In my opinion, Wall Street needs to seriously refine the use of its capital for its own benefit and that of our nation.
Can Wall Street adapt? Does Wall Street understand the errors of its ways? When might some real leaders on Wall Street call out for the industry to clean up its act? These questions can only be properly addressed in the future if there is an acknowledgment and understanding of where and when did Wall Street go wrong in the past. Let's navigate.