Posts Tagged 'Tim Geithner'
Posted by Larry Doyle on May 14th, 2014 2:39 PM |
With mid-term elections on the near term horizon, I expect we will hear various pols and their selected pundits tout Dodd-Frank as not being perfect but as having brought meaningful reform to Wall Street.
Really? I know, politico-speak is more noise than substance but let's get real.
When there is not a lot to grab onto in terms of truly meaningful political accomplishments, we should not be surprised that any legislation that has been passed will be used as fodder to feed the masses.
So when you hear a pol from either side of the aisle play this game talking about Dodd-Frank, make sure you hit them with the following insider assessments: (more…)
Posted by Larry Doyle on February 26th, 2014 7:01 AM |
Given the steady stream of platitudes put forth by many past and present political and financial figures in and around Washington, I find myself typically dismissing much of what is said as simply "more of the same." In the process, I usually scan headlines and quickly move on to review news or issues that I find more meaningful.
Yesterday I paused, though, upon seeing a headline in The Wall Street Journal that caused me to want to look a little deeper. The headline, Geither: 'We Saved The Economy . . . We Lost The Country.'  This I had to read.     (more…)
Posted by Larry Doyle on April 3rd, 2012 8:31 AM |
They are going to forget about me.
I have heard that line and iterations thereof from too many of our fellow citizens. Uncle Sam in the personage of Ben Bernanke, Tim Geithner, Henry Paulson, Mary Schapiro, John Boehner, Nancy Pelosi, Barack Obama and many others can talk about the actions they have taken and will take to save our economy and our nation; however, in the midst of their supposed efforts they have failed, violated, and left behind tens of thousands of our fellow citizens in their wake.
Of whom and to what do I refer?  (more…)
Posted by Larry Doyle on February 8th, 2012 6:45 AM |
Stephen Moore wrote a commentary entitled A Fairness Quiz for the President in the Wall Street Journal yesterday which generated hundreds of comments. The comments seemed to break down largely along party lines. I think most of those commenting might not grasp the full picture.
With our nation in the midst of an increasingly confrontational political debate, I think it useful to promote serious questions of fairness and rectitude. In doing so, I would like to reference a fair bit of Mr. Moore's commentary while passing over some of his more overtly political statements. Additionally, I include my own 'sense on cents' and add some of my own questions at the end. (more…)
Posted by Larry Doyle on December 18th, 2011 7:35 PM |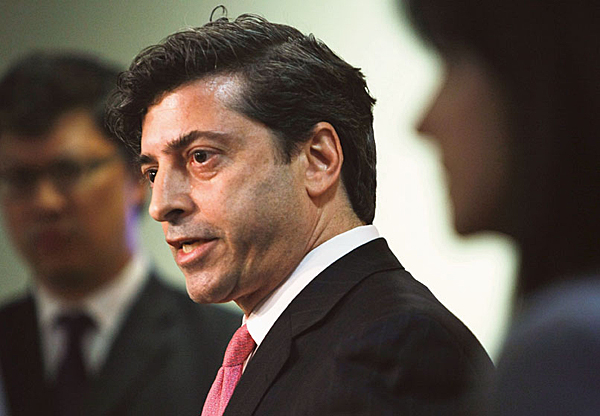 What do we think of the SEC's attempt to pursue former Freddie and Fannie CEOs Richard Syron and Daniel Mudd?
Is this a fully legitimate pursuit of justice against these executives? Could there be more than a whiff of political motivation on the part of the current administration buried in this pursuit?
As The New York Times reports the other day, SEC Accuses Fannie and Freddie Ex-Chiefs of Deception:
On Friday, S.E.C. officials trumpeted their actions in the Fannie and Freddie case as part of a renewed effort to crack down on wrongdoing at the highest levels of Wall Street and corporate America……….. (more…)
Posted by Larry Doyle on April 11th, 2011 8:20 AM |
While Uncle Sam in the persons of Ben Bernanke, Tim Geithner et al may promote the fact that our capital markets currently are a reflection of a rebound in capitalism, they would be wrong.
Our markets and the Wall Street banks that dominate them no more embody the true tenets of capitalism than the incestuous nature of the Wall Street-Washington relationship truly represents the best interests of the American public.  As The New York Times highlighted this weekend, Banks Are Off the Hook Again,
Americans know that banks have mistreated borrowers in many ways in foreclosure cases. Among other things, they habitually filed false court documents. There were investigations. We've been waiting for federal and state regulators to crack down. (more…)
Posted by Larry Doyle on December 3rd, 2010 6:38 AM |
Are those large waves roiling the world of municipal finance–and centered on California–to be feared?
Are they an indication of an oncoming tsunami? Or are they to be discounted and taken as just another  "Hey, dude, don't worry. Surf's up!!"
Well, perhaps those less concerned about what is just 'off the coast' may care to 'break out their boards' but prudence dictates we take a harder look at what is causing the recent waves in the world of municipal finance. These factors include: (more…)
Posted by Larry Doyle on October 5th, 2010 12:17 PM |
So much has happened along our economic landscape over the last two to three years that it is hard to weigh the magnitude and depth of many of the developments. That said, the simple fact is the tectonic plates underlying our global economy have shifted massively as a result of the enormous financial earthquake of 2008. While global governments and central banks have performed varying degrees of  triage to save states, nations, and regions, the movements of the plates are continuing along under the surface. To that end, what is the economic reality now bubbling above the surface given the shift in our tectonic plates below? Let's navigate and review the reality known as Beggar Thy Neighbor, defined by our friendly Investing primer as, 
An international trading policy that utilizes currency devaluations and protective barriers to alleviate a nation's economic difficulties at the expense of other countries. While the policy may help repair an economic hardship in the nation, it will harm the country's trading partners, worsening its economic status.  (more…)