Posts Tagged 'Preet Bharara'
Posted by Larry Doyle on September 24th, 2013 9:12 AM |
News breaks in the past 24 hours that one of Wall Street's largest traders, "Stevie-boy" Cohen of SAC Capital, is now looking to cut a deal with the Feds. Is the heat in Stevie's kitchen getting a little too hot?
As Bloomberg Businessweek reminds us:
After a multiyear investigation conducted by the U.S. Attorney's Office, the FBI, and the Securities and Exchange Commission, a grand jury indicted SAC Capital on July 25, accusing the firm of fostering a culture where employees engaged in rampant securities fraud.
Now Stevie wants to play Let's Make a Deal.  (more…)
Posted by Larry Doyle on May 7th, 2013 8:03 AM |
Early last year, the US Attorney for the Southern District of New York, Preet Bharara, in alluding to activities within the hedge fund community asserted that insider trading was rampant and routine. Strong words.
Fast forward a year and a recent survey of those within the hedge fund world unsurprisingly shows that a host of issues remain, and that the "findings are troubling." Let's navigate and review the results of this recent survey:  (more…)
Posted by Larry Doyle on March 22nd, 2012 5:31 AM |
The penalties handed out by NFL Commissioner Roger Goodell to the coaches and executives of the New Orleans Saints organization for the bounty program practiced down on the bayou were perhaps the stiffest in the history of the game.
Goodell has shown himself to be a no-nonsense individual cut from the mold of Kenesaw Mountain Landis. Goodell is clearly focused on protecting the sport, and knows that any program which promotes an intent to injure renders modern day football to little more than barbarism. (more…)
Posted by Larry Doyle on February 25th, 2012 9:07 AM |
Four full months have passed and MF Global customers are still out a reported ~$1.6 billion.
How are these individuals and entities surviving? Will they ever see a return of their funds?  Will the public ever learn what truly happened in those fateful days and hours when this firm went down the tubes?
Don't hold your breath.
In a not unsurprising manner, we receive word on a late Friday afternoon that the investigation into the MF Global demise may be little more than a case of sloppy controls and compliance. Is this to be believed?  (more…)
Posted by Larry Doyle on January 19th, 2012 1:15 PM |
As much as Wall Street is the center of the financial services industry, it is really a simple business that revolves around people and information.
That basic reality makes this business so fascinating. The personalities, the pace, the flow of data, and ultimately the interaction between counterparties make everyday a fascinating experience.
In order for Wall Street to thrive, though, and for our markets and economy to prosper, there needs to be a premise and a pursuit of fair dealing on a level playing field. (more…)
Posted by Larry Doyle on January 9th, 2012 7:09 AM |
Later this month, Northwestern Law will be hosting its 39th Annual Securities Regulation Institute in Coronado, California. In light of everything that has occurred on Wall Street and in Washington, one might think this could be a lively conference as it looks to provide:
A timely analysis of recent laws and developments in the corporate and securities law fields presented by senior SEC officials and leading practitioners.
While reviewing the conference invitation, I am particularly intrigued by one workshop to be held on Friday morning, January 20th. What is this workshop? Who is involved? Why am I so intrigued? Please stick with me here as we preemptively try to connect some dots.
Posted by Larry Doyle on June 28th, 2011 9:52 AM |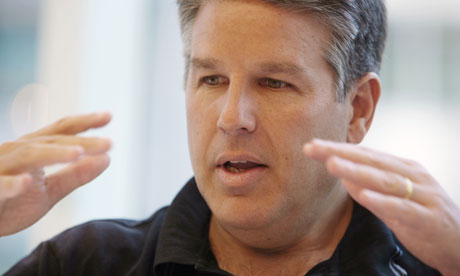 While America clearly needs real change in terms of how our financial and political systems operate and interact, regrettably we continue to suffer from the fact that, "the more things change, the more they truly stay the same."
We hear plenty from Tim Geithner, Mary Schapiro, and Jamie Dimon. We really need to hear more from Sheila Bair (highlighted this morning at Sense on Cents), Gary Aguirre, and Bill Cohan.
While regular readers of Sense on Cents may be familiar with Bair and Aguirre, Cohan has received less attention here. I will look to change that. (more…)
Posted by Larry Doyle on May 11th, 2011 3:34 PM |
There are few Americans in our nation today who have displayed a greater degree of integrity and character than Gary Aguirre.
Gary who?
Gary Aguirre is a former SEC attorney who sued and settled with the SEC for wrongful termination. After departing the SEC he continued to pursue the case which brought Art Samberg of Pequot Capital to his knees.
I highlighted Gary Aguirre, that case, and much more last December in writing, Connecting the Dots: The US Attorney, The SEC, Art Samberg, Pequot Capital, Hush Money, Lying and More. Today we hear from Mr. Aguirre.  (more…)