Posts Tagged 'Lloyd Blankfein'
Posted by Larry Doyle on March 22nd, 2012 5:31 AM |
The penalties handed out by NFL Commissioner Roger Goodell to the coaches and executives of the New Orleans Saints organization for the bounty program practiced down on the bayou were perhaps the stiffest in the history of the game.
Goodell has shown himself to be a no-nonsense individual cut from the mold of Kenesaw Mountain Landis. Goodell is clearly focused on protecting the sport, and knows that any program which promotes an intent to injure renders modern day football to little more than barbarism. (more…)
Posted by Larry Doyle on March 14th, 2012 8:25 AM |
Thanks to a regular reader for sharing a New York Times editorial which will captivate Wall Street today.
Our friends at FINRA who may be faced with real backlash from the news spreading of their losing 8 hours of testimony in an arbitration case might want to buy lunch and dinner for Goldman Sachs' senior executive Greg Smith.
Perhaps I should say former senior executive Greg Smith as he admits that today will be his last day at the firm. What else does Mr. Smith have to say? A LOT and if you see smoke rising off the top of 200 West Street today it is likely the steam rising from the heads of Lloyd Blankfein, Gary Cohn, and the other chiefs at Wall Street's dominant firm.  (more…)
Posted by Larry Doyle on December 18th, 2011 7:35 PM |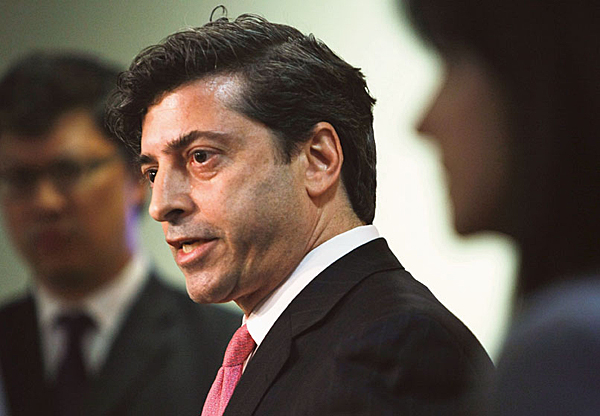 What do we think of the SEC's attempt to pursue former Freddie and Fannie CEOs Richard Syron and Daniel Mudd?
Is this a fully legitimate pursuit of justice against these executives? Could there be more than a whiff of political motivation on the part of the current administration buried in this pursuit?
As The New York Times reports the other day, SEC Accuses Fannie and Freddie Ex-Chiefs of Deception:
On Friday, S.E.C. officials trumpeted their actions in the Fannie and Freddie case as part of a renewed effort to crack down on wrongdoing at the highest levels of Wall Street and corporate America……….. (more…)
Posted by Larry Doyle on June 23rd, 2011 8:32 AM |
You do not need to read Sense on Cents to know that Wall Street and America have problems. That said, the future of both the financial services industry and our nation are inextricably linked.
The innovative ideas which our nation must generate to drive future growth and employment require capital. Wall Street has that capital. In my opinion, Wall Street needs to seriously refine the use of its capital for its own benefit and that of our nation.
Can Wall Street adapt? Does Wall Street understand the errors of its ways? When might some real leaders on Wall Street call out for the industry to clean up its act? These questions can only be properly addressed in the future if there is an acknowledgment and understanding of where and when did Wall Street go wrong in the past. Let's navigate.
Posted by Larry Doyle on May 13th, 2011 8:58 AM |
(This is a long commentary, but if you have any interest whatsoever in Wall Street, our markets, our economy, and our national character it is a MUST READ. Rolling Stone's Matt Taibbi lays out in voluminous detail why I have aggressively questioned the validity of a self-regulatory model for Wall Street and whether under that construct Wall Street violated the Racketeering Act. Read it and weep. Then for our national interest, please share this with your friends and colleagues. I thank the loyal Sense on Cents supporter who brought this story to my attention. LD)
On March 2, 2010, I was invited on CNBC's Street Signs to discuss Goldman Sachs. I pulled no punches that day in cautioning people interested in Goldman Sachs that the greatest risk with Goldman was its' 'reputational risk'. For those who care to view that 4 minute Media Appearance on CNBC, my specific comments about GS' reputation come in at about the 3-minute mark.
Over the last fourteen plus months, the Dow Jones Industrial Average is higher by approximately 20% and Goldman Sachs' stock is lower by approximately 10%.  (more…)
Posted by Larry Doyle on April 18th, 2011 8:29 AM |
Is the need to repair the health of our financial system SO GREAT, that we should be willing to allow the basic rights of individuals and the laws of our land to be trampled and violated in the process? In my opinion, this very question is central to the rage that burns in so many hearts across our great land.
Bailing out banks may be anathema to those who love and cherish capitalism BUT not pursuing justice and real accountability for the transgressions of those individuals and those institutions central to our crisis is sickening. I believe it is inherently un-American to allow these transgressions to pass without proper prosecution. Which transgressions? (more…)
Posted by Larry Doyle on February 28th, 2011 5:28 AM |
"Forgive me, I must start by pointing out that three years after our horrific financial crisis caused by financial fraud, not a single financial executive has gone to jail, and that's wrong."
With those words last evening, Charles Ferguson, the winner of the Academy Award for Best Documentary for his film Inside Job, did a lot more than merely begin an acceptance speech. Ferguson touched the third rail and made a political statement. But did he really? Really? Not in my opinion. Ferguson spoke the truth.
When did the mere voicing of the truth become political? Perhaps in America 2011 those who speak the truth actually stand out because we hear so little of the prized virtue. That reality is a sad commentary on our society.
I commend Ferguson. Backstage he had even more to say. (more…)
Posted by Larry Doyle on July 22nd, 2010 1:15 PM |
One would think the SEC's settlement with Goldman Sachs was just the break we needed in the logjam to finally get some real truth and transparency into Wall Street business practices. Recall that the Goldman CDO Abacus represented a mere .2 of the total CDO market from 2006-2008.
There must be many more fish in that tank just waiting to get caught by the SEC. American taxpayers deserve nothing less than a full and total accounting and adjudication of the travesty and transgressions embedded in a number of structured transactions on Wall Street. Will we receive that accounting? Is the SEC sending a strong message to those on Wall Street that 'there's a new sheriff in town?'  Or is the SEC placating the American public, applying a sizable slap on the wrist to Goldman, and giving Wall Street a wink and a nod indicating that it is 'business as usual?' Let's navigate. (more…)
Posted by Larry Doyle on April 23rd, 2010 9:08 AM |
Living life on the edge may be exhilarating and at times highly profitable, but in the process the risks can be enormous and the impact longstanding. So is the world of Goldman Sachs circa 2010.
Goldman's pursuit of a highly proprietary business model since the late 1990s has now placed the firm squarely in the crosshairs as the master villain on Wall Street. The executives at Goldman may deem this view to be unfair, but they have nobody but themselves to blame. This blame goes far beyond current Goldman chief Lloyd Blankfein. The blame can be directed at former chiefs Jon Corzine and Hank Paulson, as well. (more…)