Posts Tagged 'Hank Paulson'
Posted by Larry Doyle on August 29th, 2013 8:17 AM |
Might Hank Paulson have selective amnesia or whatever happened to real journalism?
My former question actually could be posed to most pols, bankers, and regulators over the last number of years.  The latter would apply even longer than that.
Well I guess posing tough questions and demanding answers in this day and age would likely leave journalists writing little more than monologues. What a pity.
I see another example of this shallow journalism on display in written reviews and interviews with former Treasury Secretary Hank Paulson. What brings Paulson back on stage?  (more…)
Posted by Larry Doyle on April 9th, 2013 10:07 AM |
Have you ever encountered an individual who seems to be so ingratiating that you are immediately attracted to him and desire to learn more of what he has to offer?
I would imagine that many who frequent this blog have been in meetings or other situations where a strong willed, dynamic leader lays out a host of propositions that would have everybody in attendance salivating for more; however, once having set the table so to speak, the leader quickly and surreptitiously delivers a powerful message incorporating proposed enormous changes so as to leave all in attendance wondering "what just happened here." This scenario is often compared to the children's fable The Wolf in Sheep's Clothing.
As I continue to navigate back through the annals of Wall Street while working on my book (In Bed with Wall Street to be released in early 2014 by Palgrave/MacMillan…sorry for the shameless plug) I recently came across testimony from then Goldman Sachs CEO Hank Paulson that struck me as a quintessential example of this aforementioned simple story of deceit.  (more…)
Posted by Larry Doyle on December 18th, 2011 7:35 PM |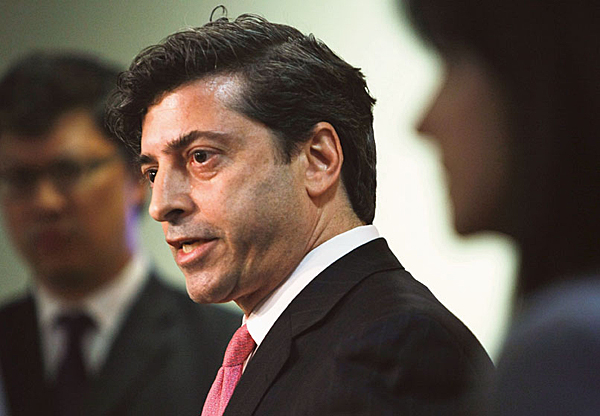 What do we think of the SEC's attempt to pursue former Freddie and Fannie CEOs Richard Syron and Daniel Mudd?
Is this a fully legitimate pursuit of justice against these executives? Could there be more than a whiff of political motivation on the part of the current administration buried in this pursuit?
As The New York Times reports the other day, SEC Accuses Fannie and Freddie Ex-Chiefs of Deception:
On Friday, S.E.C. officials trumpeted their actions in the Fannie and Freddie case as part of a renewed effort to crack down on wrongdoing at the highest levels of Wall Street and corporate America……….. (more…)
Posted by Larry Doyle on June 2nd, 2010 1:20 PM |
Has America lost the courage to aggressively address those who commit fraud? Is the American public even aware of the massive fraud perpetrated by those in our financial system which led to our current economic crisis? Are those in Washington willing to take a stand, risk their own skins, call out those engaged in fraud, even if some of the fraudsters occupy neighboring seats at nearby regulatory bodies?
Unless we find people in our government who are willing to make these calls, repeat them publicly in a long, loud fashion, and compel prosecutors to issue indictments, then I fear our union will pay a price and incur a cost that may be immeasurable.
Why so strong? Why so strident? (more…)
Posted by Larry Doyle on April 23rd, 2010 9:08 AM |
Living life on the edge may be exhilarating and at times highly profitable, but in the process the risks can be enormous and the impact longstanding. So is the world of Goldman Sachs circa 2010.
Goldman's pursuit of a highly proprietary business model since the late 1990s has now placed the firm squarely in the crosshairs as the master villain on Wall Street. The executives at Goldman may deem this view to be unfair, but they have nobody but themselves to blame. This blame goes far beyond current Goldman chief Lloyd Blankfein. The blame can be directed at former chiefs Jon Corzine and Hank Paulson, as well. (more…)
Posted by Larry Doyle on October 5th, 2009 12:40 PM |
"You can't handle the truth!!"
While the above line by Jack Nicholson in A Few Good Men may have made for good theatre, it makes for lousy public policy. Regrettably, Uncle Sam has utilized that approach in its initial disbursement of funds via the TARP (Troubled Asset Recovery Program).  That opinion is not strictly mine (although I do agree with it), but rather that of Neil Barofsky, the inspector general charged with overseeing the bank bailouts.
The New York Times sheds light on Barofsky's feelings this morning in writing, Inspector's Report on Bailouts Says Treasury Misled Public:
The inspector general who oversees the government's bailout of the banking system is criticizing the Treasury Department for some misleading public statements last fall and raising the possibility that it had unfairly disbursed money to the biggest banks.

A Treasury official made incorrect statements about the health of the nation's biggest banks even as the government was doling out billions of dollars in aid, according to a report on the Troubled Asset Relief Program to be released on Monday by the special inspector general, Neil M. Barofsky.
There is NO doubt that Uncle Sam, in the persons of Hank Paulson, Ben Bernanke, Tim Geithner, Larry Summers et al, has little confidence that the American public can handle the truth about the overall health of our banking industry.
That said, the lack of transparency and integrity as highlighted by Mr. Barofsky does not come without a cost. What is that cost? Lessened confidence in our regulators and our markets going forward.
I addressed these very topics of financial regulatory transparency and integrity on my radio show last evening. In the process of interviewing former SEC attorney Genevievette Walker-Lightfoot, I made the following comment in regard to the statement put forth a month ago by SEC Inspector General David Kotz dealing with the SEC's failures on the Madoff investigation. I said:
If that is the kind of face saving self-serving approach, people are going to call foul on it. The real cost is, and I think we are bearing this cost right now whether with the SEC or with FINRA, if you're not going to be honest with us how can we fully trust that you'll be honest on a going forward basis?

Now I'll grant you I guess we don't have much choice. What are we going to scrap the entire SEC or scrap the entire FINRA and start from scratch? Some people may say that's what we want to do, but that's obviously not going to happen.

It does get to the point where there's got to be total transparency. There's got to be total integrity. There's got to be total accountability and if people haven't done the job or are incapable of doing the job then you know what, for the long haul – and I'm not talking about the next six months but rather the next ten, fifteen, twenty years – people got to go and other people got to come!!
Genevievette Walker-Lightfoot responded:
"I agree. That's true."
How about you, what do you think? Can you handle the truth? Wouldn't you like to be given the opportunity?
LD
Note: the views expressed by Genevievette Walker-Lightfoot during last night's show are her own personal views and do not in any way reflect her position as an employee of the Federal Reserve Board.
Posted by Larry Doyle on April 23rd, 2009 6:58 AM |
When Ken Lewis, CEO of Bank of America, purchased Merrill Lynch last Fall did he put country first but his shareholders' interests second? The WSJ Reports Lewis Testifies U.S. Urged Silence on Deal.
The BofA purchase of Merrill did not feel "right" to me from the outset. Why? Recall that at the time of this deal, Lehman had just failed and other investment banks' stocks (Merrill, Morgan Stanley, Goldman Sachs) were plummeting.  Given that dynamic, why did BofA pay a fairly sizable premium for a firm in distress? Merrill's stock was trading somewhere in the mid-teens but BofA paid the equivalent of $29 a share. It is said that Lewis paid such a premium in order to retain the renowned Merrill retail brokerage staff, but it struck me as more directed by Uncle Sam than anything else.
In early February I questioned What Really Happened With Merrill and B of A. I summarized then that normal business decisions and strategy do not occur when operating in uncharted waters. Well, in the last two and a half months our economy and financial industry have moved into even deeper waters.
In looking back at the height of the waves swamping the Merrill ship, the WSJ report reminds us: (more…)
Posted by Larry Doyle on March 21st, 2009 5:49 AM |
There has been extensive speculation that Goldman Sachs unjustifiably benefited from the weakness at AIG over the last 6 months. While conspiracy theorists can and will have a field day with this story, at its core I think Goldman did what any well run firm should always do — protect its shareholders.
While the stock values of Merrill Lynch, Morgan Stanley, and Bank of America flirted with total disaster, Goldman Sachs traded down but bottomed out at approximately $50 a share. That price does not strike me as indicative of a firm on the brink of bankruptcy. As Goldman now reveals, it had significant exposure to AIG but it also significantly hedged this exposure to AIG via other transactions. Thus, Goldman would have been negatively impacted by an AIG bankruptcy but not fatally impacted. (more…)
Posted by Larry Doyle on March 17th, 2009 9:27 AM |
Given the public outrage over the millions in bonus payments at AIG, is there any doubt that there has been a massive failure to perform by all involved?
When AIG was on the verge of bankruptcy last September, I am willing to bet the topic of employment contracts was not the lead item on the agenda. In fairly short order, though, as AIG was moving ahead with its attempt to sell divisions and repay the government loan, I have to believe outstanding liabilities, such as employment contracts, became a topic of discussion.  
Let's bring the main players at that point in the process back to the table. What does Hank Paulson have to say? How about Robert Willumstad, former AIG CEO? How about current AIG CEO, Edward Liddy?
Make no mistake, both the government and AIG executives could have imposed their will to renegotiate – if not outright dismiss – any outstanding contracts. How? When an entity such as the government takes over a company, a change of control occurs. That change of control does not unilaterally extinguish outstanding liabilities, but it certainly opens them for renegotiation. The fact that these contracts were not seriously renegotiated is a massive failure to perform on behalf of the government officials and AIG executives. (more…)