Posts Tagged 'David Einhorn'
Posted by Larry Doyle on July 28th, 2011 7:31 AM |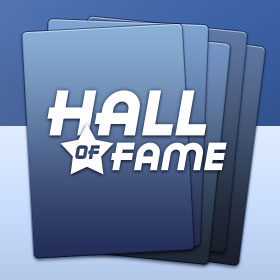 For those who love baseball, summer is not only a time for taking in a ballgame (like today's matinee at Fenway Park between our beloved 1st place Boston Red Sox and the Kansas City Royals) but also for paying a visit to the Hall of Fame.
Baseball fans of all ages love to make the pilgrimage to the hallowed hall in Cooperstown, New York.
Fans of Sense on Cents are well aware that yours truly has inducted worthy and deserving recipients into both wings of our own hall here over the course of the year. Just yesterday, I inducted Muddy Water's Carson Block into the Sense on Cents Hall of Fame.

While I take the boys to the ballpark, I hope readers, both new and old, may like to pay a visit to the Sense on Cents Halls of Fame and Shame a/o year end 2010.
I provided the following ceremonial tribute and induction at the end of last year.
Enjoy!! (more…)
Posted by Larry Doyle on December 7th, 2010 9:21 AM |
Who is willing to stand up and call out the companies, the financial regulators, and others who both enabled and embodied the practices which brought about our financial crisis?
There have been and will continue to be many well written books highlighting some of the finer points from this economic period. Will there be any books written which truly take off the gloves and call out the individuals and institutions deeply involved in the 'Wall Street-Washington incest' central to our economic demise? One book I plan to read seems to address this very theme. I thank a regular reader of Sense on Cents for bringing David Einhorn's Fooling Some of the People All of the Time to my attention.
To those involved in the financial industry, Einhorn needs no introduction. To those in the general public, let me inform you that David Einhorn–more than any other individual– publicly called out Lehman Bros. as a disaster waiting to happen, and well in advance of anybody saying the same. What does Einhorn have to say now? What does he address in this book? Let's navigate. (more…)
Posted by Larry Doyle on October 21st, 2009 11:52 AM |
In the midst of my 'navigating the economic landscape,' I thoroughly enjoy reading the work of intelligent people.  While I certainly never agree with all that I read, intelligent people force me to think and review my own opinions and beliefs. That process is always healthy. I also enjoy sharing the insights and perspectives of these people with those who read Sense on Cents. High five to KD of 12th Street Capital for bringing just such an individual to my attention.
David Einhorn runs Greenlight Capital, an investment management firm. He recently delivered an address entitled "Liquor Before Beer…In the Clear." For those interested in an overview of David's thoughts, I will clip those points I found most informative. For those with a keen interest in the economy and markets, the linked nine page document is a 'must read.'  I agree with David's views and welcome highlighting some of his points. Here are excerpts from David Einhorn's speech:
1. The lesson that I have learned is that it isn't reasonable to be agnostic about the big picture. For years I had believed that I didn't need to take a view on the market or the economy because I considered myself to be a "bottom up" investor. Having my eyes open to the big picture doesn't mean abandoning stock picking, but it does mean managing the long-short exposure ratio more actively, worrying about what may be brewing in certain industries, and when appropriate, buying some just-in-case insurance for foreseeable macro risks even if they are hard to time.

2. As I see it, there are two basic problems in how we have designed our government. The first is that officials favor policies with short-term impact over those in our long-term interest because they need to be popular while they are in office and they want to be reelected. In recent times, opinion tracking polls, the immediate reactions of focus groups, the 24/7 news cycle, the constant campaign, and the moment-to-moment obsession with the Dow Jones Industrial Average have magnified the political pressures to favor short-term solutions.

3. The second weakness in our government is "concentrated benefit versus diffuse harm" also known as the problem of special interests. Decision makers help small groups who care about narrow issues and whose "special interests" invest substantial resources to be better heard through lobbying, public relations and campaign support. The special interests benefit while the associated costs and consequences are spread broadly through the rest of the population.

4. Americans understand that the Washington-Wall Street relationship has rewarded the least deserving people and institutions at the expense of the prudent.

5. The proper way to deal with too-big-to-fail, or too inter-connected to fail, is to make sure that no institution is too big or inter-connected to fail. The test ought to be that no institution should ever be of individual importance such that if we were faced with its demise the government would be forced to intervene. The real solution is to break up anything that fails that test. (more…)