Posts Tagged 'Peter Sivere'
Posted by Larry Doyle on July 31st, 2014 9:40 AM |
Not a day goes by in which the citizens of our nation are not forced to continue to wade through a financial-political-regulatory cesspool of real cronyism and corruption.
The stench from this menage-a-trois is overpowering. Transparency is the only real disinfectant.
Who provides that transparency? Whistleblowers.
We owe immeasurable thanks to our fellow brethren who have taken immeasurable personal and professional risks to expose real waste, fraud, and abuse emanating from that cesspool. In honor of these true patriots a resolution was passed earlier this week designating July 30, 2014 as National Whistleblower Appreciation Day.
Let's navigate. (more…)
Posted by Larry Doyle on June 2nd, 2014 8:51 AM |
Those occupying positions of financial and political leadership typically like to promote themselves as possessing real courage and bold vision. Yet, when it comes to defending people who display those very virtues, our supposed leaders often look very much like cowards.
I am reminded of this very reality in reading of the travails of selected whistleblowers on Wall Street. Let's navigate to a commentary in this weekend's Financial Times, highlighting lessons shared by Peter Sivere, a former compliance officer at JP Morgan whose confidence was violated by an SEC attorney named George Demos and subsequently his career derailed while trying to do the right thing.
I hold Sivere in the highest regard for trying to do his job in sharing information of illegal practices at JP Morgan. He deserved to be treated as a true hero. Cowards are unfamiliar with the virtues Sivere displayed.
Sivere shared the following chilling perspectives and lessons on his experience: (more…)
Posted by Larry Doyle on September 27th, 2012 7:20 AM |
Yesterday's commentary addressing the gross injustice of an SEC attorney walking away largely unscathed after having blown the cover of a whistleblower resonated far and wide. What is it about this story of the whistleblower Peter Sivere having his confidence violated that consumes me and strikes right at the core of America?
Sivere was victimized by those charged with upholding our laws, protecting our values, and promoting a system of free and fair trade. Peter Sivere's story epitomizes the essence of the Wall Street -Washington Incest which I have railed on for the last three years.
Yet, Peter Sivere awakes again today a victim with no real justice. While he bears the brunt of the pain of being victimized, the simple fact is Sivere is every good and decent man and woman in America. As Sivere suffers, so do we all.
It does not have to be this way. How might it begin to change?  (more…)
Posted by Larry Doyle on August 21st, 2012 7:20 AM |
I am firmly convinced that self-regulation for Wall Street will NEVER work. The inherent conflicts of interest preclude that from happening.
Whether we have a self-regulatory model or not, though, bad practices on Wall Street need to be brought to light and properly addressed. What do I believe is the most effective means to make that happen? Promoting and protecting whistleblowers. Wall Street has little interest in this.
To think that whistleblowers will be protected and whistleblowing promoted under Dodd-Frank is naive. Why so? Do we really think career regulators Mary Schapiro and Richard Ketchum will shepherd whistleblowers and expose bad practices?  (more…)
Posted by Larry Doyle on May 1st, 2012 6:33 AM |
The folks at the SEC could not possibly still be tuning in to porn, could they?
Do you think that any SEC lawyers are once again blowing the cover of whistleblowers?
Would we know if the SEC is complying with the Freedom of Information Act?
While many in Washington and America might think these issues begin and end at the desk of the SEC chair, Mary Schapiro, the simple fact is the real oversight of this organization falls under the purview of the SEC's Inspector General. Really? Oh yeah!! How so? (more…)
Posted by Larry Doyle on April 25th, 2012 10:24 AM |
News this morning that an SEC attorney, in the midst of an investigation, blew the cover of a whistleblower might have been formerly thought of as inadvertent or unfortunate. America is no longer so naive.
The Wall Street Journal's lead story today highlights, Source's Cover Blown by SEC:
Federal securities regulators, in a sensitive breach, inadvertently revealed the identity of a whistleblower during a probe of a firm that ran a stock trading platform.  (more…)
Posted by Larry Doyle on July 28th, 2011 7:31 AM |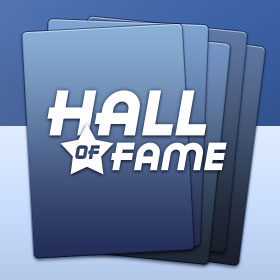 For those who love baseball, summer is not only a time for taking in a ballgame (like today's matinee at Fenway Park between our beloved 1st place Boston Red Sox and the Kansas City Royals) but also for paying a visit to the Hall of Fame.
Baseball fans of all ages love to make the pilgrimage to the hallowed hall in Cooperstown, New York.
Fans of Sense on Cents are well aware that yours truly has inducted worthy and deserving recipients into both wings of our own hall here over the course of the year. Just yesterday, I inducted Muddy Water's Carson Block into the Sense on Cents Hall of Fame.

While I take the boys to the ballpark, I hope readers, both new and old, may like to pay a visit to the Sense on Cents Halls of Fame and Shame a/o year end 2010.
I provided the following ceremonial tribute and induction at the end of last year.
Enjoy!! (more…)
Posted by Larry Doyle on June 7th, 2011 6:55 AM |
Truth, transparency, and integrity.
The compromising of these virtues may be the cost of doing business in our nation but make no mistake the price we collectively pay is enormous. Whether in Washington or on Wall Street, the ability to compromise our prized virtues has truly been raised to an art form.
From derivative transactions which disguise unprecedented levels of risk to bond indentures which require advanced legal degrees to interpret, our 'friends' on Wall Street with assistance from 'their' friends in Washington have displayed little regard for the aforementioned virtues which are the foundation for real 'sense on cents'.
More often than not,though,the violation of our virtues is viewed in an impersonal light. Wall Street and Washington are behemoths. The American public and investors at large are faceless. In my opinion, our financial services industry and government would just as soon keep it this way.
Let's challenge them. (more…)
Posted by Larry Doyle on July 8th, 2010 7:10 AM |
A recent headline in my local newspaper highlights a whistleblower case involving JP Morgan and an employee named Kevin Dillon. The article, JP Morgan Employee Files Whistle-Blower Lawsuit, details how Dillon was rebuffed while he attempted to report alleged accounting improprieties by a Texas based hedge fund, Highland Capital Management. This fund has a prime brokerage relationship with JP Morgan.
Dillon has brought suit against JP Morgan for alleged mistreatment as a result of his blowing the whistle. Dillon and JP Morgan are certainly not the only individuals and firms involved in an employee dispute over procedures and treatment. So, why am I writing about this case? For the very simple reason that Mr. Dillon will hopefully read my commentary and know that he is not the first individual involved in a whistleblower dispute with JP Morgan.
Regular readers of Sense on Cents may recall the story of Peter Sivere, a JP Morgan employee who blew the whistle on his employer for allowing after hours trading of mutual funds by a high profile hedge fund. In the process of performing his duties, Sivere engaged attorneys from the SEC. What happened in the midst of engaging these attorneys? (more…)