Posts Tagged 'Education'
Posted by Larry Doyle on February 22nd, 2012 6:28 AM |
This commentary provides a wealth of details and data along with some fabulous links. I firmly believe it covers the most important issues which will determine the future health and prosperity of our nation. It is a little lengthy, and for some perhaps overly sensitive—dare I say politically incorrect—but I hope you will take the time to read, review, and comment upon it. Thanks. LD 
While there are plenty of pols in Washington and elsewhere who would like to paint a picture of a land divided along class lines, let's not get distracted by those merely making noise to score political points.
Let's dig a  little deeper and determine who is not keeping up along our economic landscape . . . and why?  (more…)
Posted by Larry Doyle on February 10th, 2012 3:41 PM |
I wrote earlier today about the need for those in college to "not let their classwork get in the way of their education."
That said, in order to get to college or ahead in the world in the first place, each and every child in our nation needs a quality secondary education.
They are not getting it.
Obviously, family structure and other factors play a significant role in our children's well being and development; however, when we have urban graduation rates of approximately 50%, education in many cities is largely in name only. From where do you think large percentages of our prison populations come? (more…)
Posted by Larry Doyle on December 31st, 2011 12:37 PM |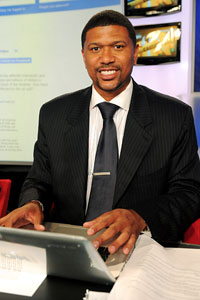 I am passionate about a number of things, including integrity, accountability, discipline, fairness, and opportunity.
I am not bashful in calling out those people whom I believe willingly and wantonly flout these virtues.
I also welcome heaping praise on those who not only embrace these virtues but then also go about doing something to promote them.
I typically immediately place these real American heroes into the Sense on Cents Hall of Fame. On that note and on this the final day of 2011, I welcome inducting Mr. Jalen Rose into our hallowed hall of heroes.  (more…)
Posted by Larry Doyle on March 25th, 2010 12:58 PM |
If we do not educate our children, we can bend over, kiss our ass, and wave our future good-bye. In fact, we are well on our way to this reality. Go ahead and point the fingers at whomever you would like for this reality, but let's ask those in the inner cities screaming for an opportunity for a better life that ONLY comes through education.
To this end, I share with you two exceptionally well scripted letters on this topic in today's Wall Street Journal. The letters not only address the benefits of charter schools, but the need for real change within public schools. The change that will come only when the stranglehold of the administrations and unions is unleashed. Remember, it is supposed to be about the kids. (more…)
Posted by Larry Doyle on February 8th, 2010 2:00 PM |
Who would not make an investment that can generate a 20% better return at half the overall cost? The appeal of this investment is that it pays increasing dividends in the future. Are you interested? You should be because your tax dollars are being spent at an ever increasing rate to fund a lower returning investment at a higher cost, without the benefits of future dividends but the reality of higher social costs.
I am referring to my major interest in the use of student vouchers for the funding of secondary education. Time and again I come across stories of urban families who are desperate to get their children well educated in hopes of moving on to a better life. These hopes are evidenced by the overwhelming demand for admission to a charter school or access to a student voucher.
Regrettably, the teachers' unions in our country maintain a stranglehold on the futures of many of our urban youth. How so? The unions' support for the Democratic Party comes with the price tag of limiting both charter schools and the use of vouchers. What a shame! (more…)
Posted by Larry Doyle on February 1st, 2010 12:02 PM |
Throwing money at problems is not necessarily a sure-fire fix. That said, without funding many initiatives never truly get off the ground. Money does make the world go round . . . but in what direction, on what axis, and at what rate?
Let's enter into one segment of the Washington dynamic that is receiving increased funding — education. I concur with President Obama that quality secondary education is vitally necessary to address our long term social and fiscal problems.
In President Obama's State of the Union speech last week, he referenced that he does not want to be in second place behind China, India, or any other nation in the world. Well, if we employ a little truth in advertising here, President Obama should have highlighted that the United States educational rankings currently place us 18th of the top 25 industrialized nations.   (more…)
Posted by Larry Doyle on January 15th, 2010 4:22 PM |
During 2009, I wrote a few commentaries about a fabulous educational program in Stamford, CT called Domus. That program is truly saving lives. I felt so strongly about Domus and its head, Mike Duggan, I inducted him into the Sense on Cents Hall of Fame.
I am firmly convinced that our country's greatest long term issue is education. Urban graduation rates are running at 50% and those figures are likely heavily manipulated. What are the ramifications of this reality? A future in which our nation has increasing numbers of unskilled workers and concomitant increasing social costs.
In the face of that reality, I am heartened by those like Mike Duggan who have dedicated their lives to helping others get educated so they can have 'a shot at life.'
Today I came across another story of heartfelt dedication in the person of Helene Horan, an educational counselor in Worcester, MA. (more…)
Posted by Larry Doyle on October 14th, 2009 12:56 PM |
Looking beyond the liquidity provided by the Treasury and Federal Reserve to refloat our equity markets, what will be the drivers of our economy and markets going forward? While Uncle Sam may think he can leave rates at 0-.25% for an extended period, at some point even 'extended' runs out. Will the Uncle Sam economy have adapted and implemented the structural changes necessary to move on to a new phase of growth and prosperity?
I am very concerned and reiterate that our markets are masking significant embedded issues in our economy and overall fiscal health.
As much as I found Pimco to be challenging when trading with them, and question their integrity in handling their outstanding Auction-Rate Securities issuance, I respect their views on the markets and economy. In fact, I think Bill Gross and Mohamed El-Erian consistently provide a lot of "sense on cents."  What does Mr. Gross have to say about our economic landscape lately? He writes:
What is critical to recognize is that both California and the U.S., as well as numerous global lookalikes such as the U.K., Spain, and Eastern European invalids, are in a poor position to compete in a global economy where capitalism is morphing from its decades-long emphasis on finance and levered risk taking to a more conservative, regulated, production-oriented system advantaged by countries focusing on thrift and deferred gratification. The term "capitalism" itself speaks to "capital" – the accumulation of it and the eventual efficient employment of it – for growth in profits and real wages alike.
Regrettably, more and more capital here at home is being directed toward the servicing of our massive deficit. Additionally, taxes will surely increase to do the same. Over and above those two definites, I believe strongly  that capital will increasingly look for opportunities outside our nation given the pressure on our greenback.
Gross touches upon an issue which I strongly believe is a MASSIVE drag on our current economy and our future well being, that is our  secondary schools which rank 18th overall in the developed world. Gross writes:
What California once had and is losing rapidly is its "capital": unquestionably in its ongoing double-digit billion dollar deficits, but also in its crown jewel educational system that led to Silicon Valley miracles such as Hewlett Packard, Apple, Google, and countless other new age innovators. In addition, its human capital is beginning to exit as more people move out of the state than in. While the United States as a whole has yet to suffer that emigration indignity, the same cannot be said for foreign-born and U.S.-educated scientists and engineers who now choose to return to their homelands to seek opportunity. Lady Liberty's extended hand offering sanctuary to other nations' "tired, poor and huddled masses" may be limited to just that. The invigorated wind up elsewhere.
Do the powers that be in Washington and in the state houses possess the necessary discipline to right our ship and set sail on smoother seas? If so, they will have to display a set of values and practices which are entirely inconsistent with how our government operates. While I remain bullish on those who want to educate themselves, practice discipline, and save for better days, I am bearish on people who think Washington or other entities can provide those necessary values. Gross is also cautious in concluding:
Now that our financial system has been stabilized, one wonders whether California's "Governator" and indeed the Obama Administration has the capital, the vision, and indeed the discipline of its citizenry to turn things around. Our future doggie bags can hold steak bones or doo-doo of an increasingly familiar smell. For now investors should be holding their noses, their risk orientation, as well as their blue bags, until proven otherwise. Specifically that continues to dictate a focus on high quality bonds and steady dividend paying stocks that can survive, if not thrive, in our journey to a  "new normal" economy of slower growth, muted profit gains, and potential capital destruction via default, abrogation of property rights, and dollar devaluation.
If we think a return to business as usual is the proper path, we will merely go in circles and end up right back in this same spot….if not worse.
I welcome comments from those who share or differ with these assessments.
LD
Posted by Larry Doyle on October 12th, 2009 2:41 PM |
The pursuit of a better life and greater opportunities have driven successive generations since the founding of our nation. Will that dream live on? Will future generations have a chance to live a better life than the current generation or recent generations?
Is the mere talk of this pursuit of the American dream mere poppycock? Do we think we can regain our economic stature and, once again, experience true economic prosperity merely because we want to have it happen?
Many feel that success is a function of a few basic principles combined with a little bit of luck. Is it truly luck, as some may maintain? No, I think not. I have always thought of luck as nothing more than where 'preparation meets opportunity.'
In writing on this topic, I am not so hardened to think that families can easily or fluidly pursue opportunities which would entail picking up roots and moving. That said, demographic shifts will certainly be an ongoing theme as our economy and our country adapt to the new dynamics within the 'Uncle Sam' economy.
While we could debate at length the merits, or lack thereof, of bank bailouts and government support across a wide array of businesses and industries, I believe a great and unmentioned cost of a number of government programs is the masking of significant structural problems embedded in both the financial and moral balance sheets of individuals, families, corporations, and the government itself. (more…)