Posts Tagged 'urban education'
Posted by Larry Doyle on December 31st, 2011 12:37 PM |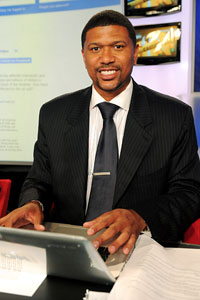 I am passionate about a number of things, including integrity, accountability, discipline, fairness, and opportunity.
I am not bashful in calling out those people whom I believe willingly and wantonly flout these virtues.
I also welcome heaping praise on those who not only embrace these virtues but then also go about doing something to promote them.
I typically immediately place these real American heroes into the Sense on Cents Hall of Fame. On that note and on this the final day of 2011, I welcome inducting Mr. Jalen Rose into our hallowed hall of heroes.  (more…)
Posted by Larry Doyle on July 13th, 2010 9:55 AM |
Isn't education supposed to be about the kids? Then how has our nation allowed political operatives in states, cities, and towns throughout our land to develop and manipulate accounting standards to benefit public employees within our school systems at the expense of our future generations?
Go ahead and rail on me as just another fiscal conservative who does not fully appreciate the dynamics of public education, especially in urban settings. I will respond with a strident, CHALLENGE!!  Why? (more…)
Posted by Larry Doyle on March 25th, 2010 12:58 PM |
If we do not educate our children, we can bend over, kiss our ass, and wave our future good-bye. In fact, we are well on our way to this reality. Go ahead and point the fingers at whomever you would like for this reality, but let's ask those in the inner cities screaming for an opportunity for a better life that ONLY comes through education.
To this end, I share with you two exceptionally well scripted letters on this topic in today's Wall Street Journal. The letters not only address the benefits of charter schools, but the need for real change within public schools. The change that will come only when the stranglehold of the administrations and unions is unleashed. Remember, it is supposed to be about the kids. (more…)
Posted by Larry Doyle on February 23rd, 2010 8:38 AM |
"We don't have slave masters," he said. "We got mayors. But they still the same white people who are presiding over systems where black people are not able . . . to be educated."
That is some statement.
Who expressed such strong and incendiary outrage? The Reverend James Meeks, founder and senior pastor of Salem Baptist Church in Chicago, the largest African-American church in Illinois.
In my opinion, Meeks did not look to score pure political points in launching into the mayors of our nation. To a very large extent, Meeks is taking on the Democratic Party establishment which has embraced the African-American community and championed their fight. Then why is Meeks railing on the mayors? (more…)
Posted by Larry Doyle on February 8th, 2010 2:00 PM |
Who would not make an investment that can generate a 20% better return at half the overall cost? The appeal of this investment is that it pays increasing dividends in the future. Are you interested? You should be because your tax dollars are being spent at an ever increasing rate to fund a lower returning investment at a higher cost, without the benefits of future dividends but the reality of higher social costs.
I am referring to my major interest in the use of student vouchers for the funding of secondary education. Time and again I come across stories of urban families who are desperate to get their children well educated in hopes of moving on to a better life. These hopes are evidenced by the overwhelming demand for admission to a charter school or access to a student voucher.
Regrettably, the teachers' unions in our country maintain a stranglehold on the futures of many of our urban youth. How so? The unions' support for the Democratic Party comes with the price tag of limiting both charter schools and the use of vouchers. What a shame! (more…)
Posted by Larry Doyle on February 1st, 2010 12:02 PM |
Throwing money at problems is not necessarily a sure-fire fix. That said, without funding many initiatives never truly get off the ground. Money does make the world go round . . . but in what direction, on what axis, and at what rate?
Let's enter into one segment of the Washington dynamic that is receiving increased funding — education. I concur with President Obama that quality secondary education is vitally necessary to address our long term social and fiscal problems.
In President Obama's State of the Union speech last week, he referenced that he does not want to be in second place behind China, India, or any other nation in the world. Well, if we employ a little truth in advertising here, President Obama should have highlighted that the United States educational rankings currently place us 18th of the top 25 industrialized nations.   (more…)
Posted by Larry Doyle on January 15th, 2010 4:22 PM |
During 2009, I wrote a few commentaries about a fabulous educational program in Stamford, CT called Domus. That program is truly saving lives. I felt so strongly about Domus and its head, Mike Duggan, I inducted him into the Sense on Cents Hall of Fame.
I am firmly convinced that our country's greatest long term issue is education. Urban graduation rates are running at 50% and those figures are likely heavily manipulated. What are the ramifications of this reality? A future in which our nation has increasing numbers of unskilled workers and concomitant increasing social costs.
In the face of that reality, I am heartened by those like Mike Duggan who have dedicated their lives to helping others get educated so they can have 'a shot at life.'
Today I came across another story of heartfelt dedication in the person of Helene Horan, an educational counselor in Worcester, MA. (more…)
Posted by Larry Doyle on July 21st, 2009 5:32 AM |
Our country is kidding itself if it thinks it can maintain a position of longstanding economic strength with an abhorrent urban education system.
I initially addressed this topic last October in writing, "Give a Man a Fish…"
I followed that writing in mid-May by specifically comparing and contrasting the dire state of the Detroit public schools with a fabulous academic/work/life program known as Domus in Stamford, CT.
I wrote Secretary of Education "Arne Duncan Visits Detroit; He Should Visit Domus." Well, the Detroit school system is in the news again and it is not for good reason as the Wall Street Journal writes Detroit Schools on the Brink:
Detroit's public-school system, beset by massive deficits and widespread corruption, is on the brink of following local icons GM and Chrysler into bankruptcy court.

A decision on whether to file for protection under federal bankruptcy laws will be made by the end of summer, according to Robert Bobb, Detroit Public Schools' emergency financial manager. Such a filing would be unprecedented in the U.S. Although a few major urban school districts have come close, none has gone through with a bankruptcy, according to legal and education experts.

But in Detroit — where U.S. Education Secretary Arne Duncan dubbed the school system a "national disgrace" this spring — lawmakers and bankruptcy experts see few alternatives, given the deep financial challenges confronting the district and the state.
Those inside and outside of the Detroit system can easily find convenient excuses for the sorry state of the Detroit schools in particular and urban education in general. While macroeconmic developments are outside of our individual control, in my opinion, though, the fact that our urban education system has a graduation rate of 50% (Detroit's graduation rate is 25%!!!) is an indictment of our entire society, including:
1. Men who father children without taking responsibility for their offspring.
2. Mothers who get pregnant without intention of starting a family.
3. The mass media which glorifies sexual promiscuity and degrades any semblance of moral values.
4. The media which does not highlight the pathetic statistics of urban education.
5. The teacher unions which put a stranglehold on politicians.
6. The politicians who cowardly will not more aggressively support school choice, via both charters and vouchers.
7. Those fortunate enough to help who turn a blind eye.
Is Detroit a unique situation? Anything but. The WSJ highlights:
Some experts say the Detroit case could be the first in a string of Chapter 9 bankruptcies among school districts and other public entities battered by the economic crisis, and it could help shape that area of the law. "Given the state of public finance," says Samuel Gerdano, executive director of the American Bankruptcy Institute, "I think the wave is coming."
Make no mistake, though, there is also significant fraud and criminal activity involved in this nationwide education debacle. The fraud must be rooted out and individuals held accountable. It would be excessively naive to think that the fraud does not cross into political offices. These individuals must be prosecuted.
Over and above these individuals, though, our nation as whole is collectively guilty for allowing the moral decay at the core of this situation to propagate.
Guilty as charged and we are all paying whether we know it or not!!
LD