Posts Tagged 'Fannie Mae'
Posted by Larry Doyle on April 12th, 2012 7:14 AM |
"The mind, once expanded to the dimensions of larger ideas, never returns to its original size."  Oliver Wendell Holmes, Sr.
Uncle Sam and his friends in officialdom around the world may believe their ideas are of larger size and greater dimension. That point is open to debate. How do the old man's ideas mesh with the principles of freedom and liberty?
Uncle Sam and his 'friends' make for very strange bedfellows . . . and  lousy business partners. I cautioned people on this front a few years back.
The sanctity of contracts? Fuhgeddaboutit. The primacy of market based principles? How inconvenient! Protecting private capital? Why bother?  (more…)
Posted by Larry Doyle on December 18th, 2011 7:35 PM |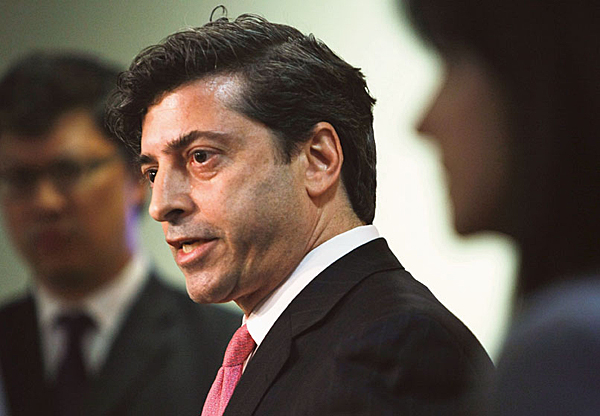 What do we think of the SEC's attempt to pursue former Freddie and Fannie CEOs Richard Syron and Daniel Mudd?
Is this a fully legitimate pursuit of justice against these executives? Could there be more than a whiff of political motivation on the part of the current administration buried in this pursuit?
As The New York Times reports the other day, SEC Accuses Fannie and Freddie Ex-Chiefs of Deception:
On Friday, S.E.C. officials trumpeted their actions in the Fannie and Freddie case as part of a renewed effort to crack down on wrongdoing at the highest levels of Wall Street and corporate America……….. (more…)
Posted by Larry Doyle on May 26th, 2011 5:49 AM |
There are only a few books written on our financial crisis that I have felt compelled to read. I thoroughly enjoyed The Big Short by Michael Lewis. I strongly recommend 13 Bankers by Simon Johnson and James Kwak. Ruthless by Phil Trupp explores and exposes the largest scam on Wall Street, that is the auction-rate securities travesty, without parallel.
What is the next book I will be reading? After having listened to a Bloomberg Radio interview yesterday with The New York Times' Gretchen Morgenson and Graham Fisher's Josh Rosner, I will next be reading Reckless Endangerment.
I did not want the Bloomberg interview to end yesterday as Morgenson and Rosner were pulling no punches in naming names and exposing the stench of what I have defined as the Wall Street-Washington incest.
I have no doubt that America continues to suffer at the hands of so many intimately engaged in this incestuous activity. Will anything be done to expose and eradicate the incest? (more…)
Posted by Larry Doyle on August 16th, 2010 4:03 PM |
In June 2009, I highlighted the expectation of massive losses within Fannie Mae and Freddie Mac in writing Uncle Sam's Dirty Little Secret. Fourteen months and hundreds of billions of dollars in losses later, America awaits to see how our 'wizards in Washington' will look to deal with these housing 'wards of the state.' Tomorrow, the Obama administration hosts the "Conference on the Future of Housing Finance."
In anticipation of this conference, this past April the Obama administration had asked for input as to how our housing finance system might work. I wrote then (and would like to resubmit now), Sense on Cents Responds to Obama Administration Request for Input:
President Obama wants input on the reform of the housing finance system. Given my career, I consider myself eminently qualified to give it to him. Despite this request, though, I still think he should focus on job creation (which he highlighted during his State of the Union address).

I welcome giving President Obama, Treasury Secretary Geithner, and the rest of the the White House economic team a very healthy dose of Sense on Cents. (My response is a little lengthy, but it is not everyday the President gives us this opportunity. Out of respect, I owe him my best effort.) I will let you know if they respond with anything more than a form letter, or if they do not respond at all. From the U.S. Treasury today:

Obama Administration Seeks Public Input on
Reform of the Housing Finance System (more…)
Posted by Larry Doyle on August 11th, 2010 7:17 AM |
Have executives at Fannie Mae worked to benefit their own financial interests versus promoting the well being of American taxpayers and homeowners looking to permanently modify their mortgages? Is Fannie Mae merely a perpetual train wreck or has something even more nefarious gone on inside the halls of our national stepchild?
In recently reviewing The Center for Public Integrity, I was not shocked — but certainly dismayed — to read Whistleblower: Fannie Mae Bungled HAMP Anti-Foreclosure Program,
Fannie Mae executives bungled their stewardship of the federal government's massive foreclosure-prevention campaign, creating a bureaucratic muddle characterized by "mismanagement and gross waste of public funds," according to a whistleblower lawsuit by a former Fannie Mae executive and consultant. (more…)
Posted by Larry Doyle on August 4th, 2010 1:25 PM |
Whatever happened to the virtues of taking responsibility and ownership for issues? Why do I hold so many senior executives in our financial industry in disdain? For the very simple reason that I have seen very few of these execs stand up and be counted. All too many of them point the finger elsewhere, use the convenient excuse of 'the perfect storm,' or develop a convenient case of amnesia.
Who is a fine examplar of the last category? Former Chairman and CEO of Fannie Mae Franklin Raines who wrote into The Wall Street Journal yesterday on the topic of the demise of our two step-children, Fannie and Freddie. Raines promotes that the downfall of these organizations and the enormous burden they now put on American taxpayers were simply the result of the excessive credit risks taken by Freddie and Fannie from 2005-2007. Raines writes, Poor Credit Judgments Sank Fannie and Freddie:
The facts about the financial collapse of Fannie and Freddie are pretty clear and a matter of public record. (more…)
Posted by Larry Doyle on July 23rd, 2010 12:57 PM |
Information is everything. Those who control the information have immense power. The allegiances of those in control of the info obviously have an enormous impact on how the information is processed and dispensed. The potential for conflicts of interest are significant. Standard business fare, correct? Have these conflicts played out on Wall Street? All too often. How so?
I have repeatedly highlighted the conflicts within our financial regulatory structure. We also know that the credit rating agencies have been enormously conflicted. Anywhere else? Let's enter the world of mortgage servicing, ….. (more…)
Posted by Larry Doyle on July 12th, 2010 3:21 PM |
Are there some dark legal clouds beginning to hover over the Wall Street landscape? How so? The threats of impending lawsuits are never a forecast any individual, entity, or industry care to entertain. Like it or not, Wall Street is beginning to get some ground cover in the forms of pending legal actions.
While a large mortgage investor, Cambridge Place Investment Management, recently filed a complaint against virtually every firm on Wall Street in the Massachusetts courts, today we see none other than our 'wards of the state' Fannie Mae and Freddie Mac preparing the initial steps to bring suit against Wall Street. Could it be possible that Fannie and Freddie would sue Wall Street? Is a potential lawsuit political cover for Uncle Sam? Who knows? (more…)
Posted by Larry Doyle on June 10th, 2010 11:21 AM |
As day follows night, financial fraud follows economic distress. God forbid people try to make an honest living as opposed to seizing opportunities to make a dishonest buck. This financial artifice is on display in the short sales of homes throughout our country.
Bloomberg highlights this fraudulent activity in reporting, Banks Face Short-Sale Fraud as Home 'Flopping' Schemes Spread:
Two Connecticut real estate agents found a way to profit in the U.S. housing bust: Buy low, sell fast. Their tactic was also illegal. (more…)