Posts Tagged 'Brian Moynihan'
Posted by Larry Doyle on March 22nd, 2012 5:31 AM |
The penalties handed out by NFL Commissioner Roger Goodell to the coaches and executives of the New Orleans Saints organization for the bounty program practiced down on the bayou were perhaps the stiffest in the history of the game.
Goodell has shown himself to be a no-nonsense individual cut from the mold of Kenesaw Mountain Landis. Goodell is clearly focused on protecting the sport, and knows that any program which promotes an intent to injure renders modern day football to little more than barbarism. (more…)
Posted by Larry Doyle on December 18th, 2011 7:35 PM |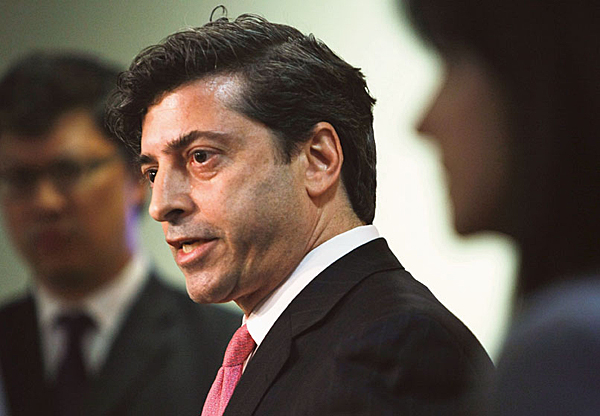 What do we think of the SEC's attempt to pursue former Freddie and Fannie CEOs Richard Syron and Daniel Mudd?
Is this a fully legitimate pursuit of justice against these executives? Could there be more than a whiff of political motivation on the part of the current administration buried in this pursuit?
As The New York Times reports the other day, SEC Accuses Fannie and Freddie Ex-Chiefs of Deception:
On Friday, S.E.C. officials trumpeted their actions in the Fannie and Freddie case as part of a renewed effort to crack down on wrongdoing at the highest levels of Wall Street and corporate America……….. (more…)
Posted by Larry Doyle on June 29th, 2011 6:44 AM |
They must think we're stupid.
News that Bank of America is poised to pay an $8.5 billion settlement in a claim by investors that the firm and a predecessor sold packages of loans/securities which did not meet standards and provide proper disclosures is a joke. Regrettably the joke is on us, that is, the citizens of this great land.
$8.5 billion may be a lot of money but what price warrants real justice? (more…)
Posted by Larry Doyle on June 23rd, 2011 8:32 AM |
You do not need to read Sense on Cents to know that Wall Street and America have problems. That said, the future of both the financial services industry and our nation are inextricably linked.
The innovative ideas which our nation must generate to drive future growth and employment require capital. Wall Street has that capital. In my opinion, Wall Street needs to seriously refine the use of its capital for its own benefit and that of our nation.
Can Wall Street adapt? Does Wall Street understand the errors of its ways? When might some real leaders on Wall Street call out for the industry to clean up its act? These questions can only be properly addressed in the future if there is an acknowledgment and understanding of where and when did Wall Street go wrong in the past. Let's navigate.
Posted by Larry Doyle on April 18th, 2011 8:29 AM |
Is the need to repair the health of our financial system SO GREAT, that we should be willing to allow the basic rights of individuals and the laws of our land to be trampled and violated in the process? In my opinion, this very question is central to the rage that burns in so many hearts across our great land.
Bailing out banks may be anathema to those who love and cherish capitalism BUT not pursuing justice and real accountability for the transgressions of those individuals and those institutions central to our crisis is sickening. I believe it is inherently un-American to allow these transgressions to pass without proper prosecution. Which transgressions? (more…)
Posted by Larry Doyle on February 28th, 2011 5:28 AM |
"Forgive me, I must start by pointing out that three years after our horrific financial crisis caused by financial fraud, not a single financial executive has gone to jail, and that's wrong."
With those words last evening, Charles Ferguson, the winner of the Academy Award for Best Documentary for his film Inside Job, did a lot more than merely begin an acceptance speech. Ferguson touched the third rail and made a political statement. But did he really? Really? Not in my opinion. Ferguson spoke the truth.
When did the mere voicing of the truth become political? Perhaps in America 2011 those who speak the truth actually stand out because we hear so little of the prized virtue. That reality is a sad commentary on our society.
I commend Ferguson. Backstage he had even more to say. (more…)
Posted by Larry Doyle on October 13th, 2009 8:19 AM |
Are the powers that be at Bank of America wilting under political pressure to release the details of its merger with Merrill Lynch? In fact they are and in the process, the executives at Bank of America are agreeing to waive attorney-client privilege. What are the critical points which New York Attorney General Andrew Cuomo, the SEC, those in Congress, and especially Bank of America shareholders want to learn?
1. What did Bank of America know about the ongoing deteriorating financial position at Merrill Lynch?
2. What did Bank of America executives share with their board members about the billions in bonuses to be paid at Merrill?
3. Did Ken Lewis overplay his hand? Please reference my commentary from a few weeks ago, "Documents Indicate Ken Lewis Utilized the MAC To Shake Down Bernanke and Paulson."
The Wall Street Journal summarizes these topics this morning in writing, BofA to Hand Over Documents Related To Its Merrill Deal:
Mr. Cuomo's investigators, as well as Judge Rakoff, have said a fuller accounting of the events surrounding the deal is a prerequisite to any resolution of the probes. BofA is hoping releasing the privileged documents will satisfy those demands, according to people familiar with the matter.

BofA's move will likely reveal exactly what advice was provided by outside firms, according to people familiar with the matter. Those firms include Wachtell, Lipton Rosen & Katz, which represented BofA during the Merrill transaction and is a long and trusted adviser to the bank, as well as Merrill's counsel, Shearman & Sterling LLP.

It may also show conversations with ex-general counsels Timothy Mayopoulos and Brian Moynihan. Bank of America recently hired law firm Paul Weiss Rifkind Wharton & Garrison LLP to join Cleary Gottlieb Steen & Hamilton LLP in representing the bank in the various federal and state investigations surrounding the Merrill acquisition.

"This is going to get to the down-and-dirty question of what counsel did say and did not say, what counsel meant and did not mean," said James Cox, a law professor at Duke University.
Down and dirty? I love it. Get the extra large popcorn. This should be good.
LD