Posts Tagged 'Ken Lewis'
Posted by Larry Doyle on December 18th, 2011 7:35 PM |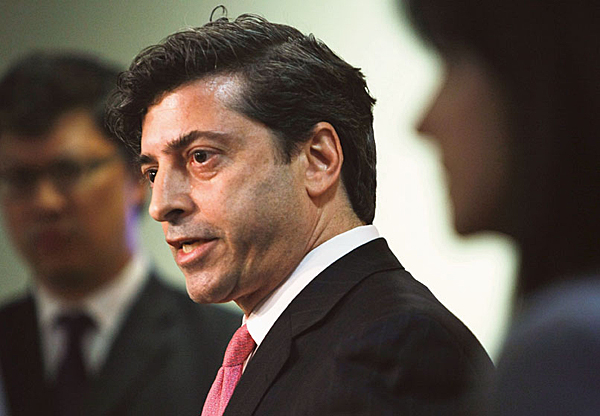 What do we think of the SEC's attempt to pursue former Freddie and Fannie CEOs Richard Syron and Daniel Mudd?
Is this a fully legitimate pursuit of justice against these executives? Could there be more than a whiff of political motivation on the part of the current administration buried in this pursuit?
As The New York Times reports the other day, SEC Accuses Fannie and Freddie Ex-Chiefs of Deception:
On Friday, S.E.C. officials trumpeted their actions in the Fannie and Freddie case as part of a renewed effort to crack down on wrongdoing at the highest levels of Wall Street and corporate America……….. (more…)
Posted by Larry Doyle on October 13th, 2009 8:19 AM |
Are the powers that be at Bank of America wilting under political pressure to release the details of its merger with Merrill Lynch? In fact they are and in the process, the executives at Bank of America are agreeing to waive attorney-client privilege. What are the critical points which New York Attorney General Andrew Cuomo, the SEC, those in Congress, and especially Bank of America shareholders want to learn?
1. What did Bank of America know about the ongoing deteriorating financial position at Merrill Lynch?
2. What did Bank of America executives share with their board members about the billions in bonuses to be paid at Merrill?
3. Did Ken Lewis overplay his hand? Please reference my commentary from a few weeks ago, "Documents Indicate Ken Lewis Utilized the MAC To Shake Down Bernanke and Paulson."
The Wall Street Journal summarizes these topics this morning in writing, BofA to Hand Over Documents Related To Its Merrill Deal:
Mr. Cuomo's investigators, as well as Judge Rakoff, have said a fuller accounting of the events surrounding the deal is a prerequisite to any resolution of the probes. BofA is hoping releasing the privileged documents will satisfy those demands, according to people familiar with the matter.

BofA's move will likely reveal exactly what advice was provided by outside firms, according to people familiar with the matter. Those firms include Wachtell, Lipton Rosen & Katz, which represented BofA during the Merrill transaction and is a long and trusted adviser to the bank, as well as Merrill's counsel, Shearman & Sterling LLP.

It may also show conversations with ex-general counsels Timothy Mayopoulos and Brian Moynihan. Bank of America recently hired law firm Paul Weiss Rifkind Wharton & Garrison LLP to join Cleary Gottlieb Steen & Hamilton LLP in representing the bank in the various federal and state investigations surrounding the Merrill acquisition.

"This is going to get to the down-and-dirty question of what counsel did say and did not say, what counsel meant and did not mean," said James Cox, a law professor at Duke University.
Down and dirty? I love it. Get the extra large popcorn. This should be good.
LD
Posted by Larry Doyle on April 28th, 2009 6:48 AM |
The global equity markets are down approximately 2% overnight for a variety of reasons, including:
1. Citi and BofA will likely be forced by regulators to raise more capital. Company shares are down 7-8% on this news. It also seems likely that regulators will force changes on the boards of these companies. Do not be surprised to see management changes as well. Has Ken Lewis become a government liability based upon his assertion of being pressured by Hank Paulson and Ben Bernanke to complete the BofA-Merrill Lynch merger?
Is this story of increased capital needs really news? I don't think so.
On the regional bank front . . . Suntrust, Regions Financial, and KeyCorp are speculated to need increased capital.
When it is widely accepted that our domestic banking system still has $750 billion to $1 trillion in embedded losses, it can't be the case that all the banks are fine. In my opinion, Geithner did investors a disservice last week in promoting the overall health of the banking industry.
Bloomberg provides more insight: Citigroup, Bank of America Decline on Capital Report.
2. Markets are also down based upon some weak earnings news, increased loan loss provisions at NAB (National Australia Bank), and price declines in commodities due to the impact of the swine flu outbreak.
In my opinion, the markets and investors have gotten somewhat complacent given the rally in equities since early March. I still view risks as very high. It is growing increasingly likely that we will have a meaningful government presence as equity holders in some critical industries for a protracted period. This development will not only occur in the United States but in many regions globally. The impact of this government presence will effect not only specific companies but, in turn, industries as a whole. (more…)
Posted by Larry Doyle on April 27th, 2009 8:57 AM |
Larry Summers threw some cold water on the economy yesterday morning in stating his belief the economy will continue to decline for some time to come. Specifically,
"I expect the economy will continue to decline," with "sharp declines in employment for quite some time this year," Summers said today on "Fox News Sunday."
Is Summers positioning the administration for a forecast more in line with IMF projections than the Congressional Budget Office? Recall that the IMF believes the U.S. economy will have flat to only slightly positive growth in 2010 with a double digit unemployment rate. Those projections are decidedly weaker than projections previously employed by the administration.
Is Summers starting to manage expectations downward given what he sees on the horizon? I believe so.
Furthermore, Valerie Jarrett, senior economic advisor, offered hints of administration plans for our banking system this weekend, in stating:
"Whether management changes occur, whether banks are asked to raise more capital, all of that's going to come forth in the coming week," Jarrett said on CNN's "State of the Union" program today.
My instincts tell me that an advisor in Jarrett's position releases that statement in preparation for exactly those moves. Will this be Vikram Pandit's last week at Citigroup? Will Ken Lewis be forced out at Bank of America? I think the odds for either of those moves – if not both – just increased.
Management of any organization, including the White House, needs to maintain credibility by providing a reasonably accurate flow of information. The Sunday morning talk shows provide a forum and I think Summers and Jarrett provided solid hints at what is to come from the White House in the days and months ahead. Bloomberg provides a full summary of these points and others, Summers Says U.S. Economy to Decline 'For Some Time.'
LD
Posted by Larry Doyle on April 23rd, 2009 6:58 AM |
When Ken Lewis, CEO of Bank of America, purchased Merrill Lynch last Fall did he put country first but his shareholders' interests second? The WSJ Reports Lewis Testifies U.S. Urged Silence on Deal.
The BofA purchase of Merrill did not feel "right" to me from the outset. Why? Recall that at the time of this deal, Lehman had just failed and other investment banks' stocks (Merrill, Morgan Stanley, Goldman Sachs) were plummeting.  Given that dynamic, why did BofA pay a fairly sizable premium for a firm in distress? Merrill's stock was trading somewhere in the mid-teens but BofA paid the equivalent of $29 a share. It is said that Lewis paid such a premium in order to retain the renowned Merrill retail brokerage staff, but it struck me as more directed by Uncle Sam than anything else.
In early February I questioned What Really Happened With Merrill and B of A. I summarized then that normal business decisions and strategy do not occur when operating in uncharted waters. Well, in the last two and a half months our economy and financial industry have moved into even deeper waters.
In looking back at the height of the waves swamping the Merrill ship, the WSJ report reminds us: (more…)