Posts Tagged 'Angelo Mozilo'
Posted by Larry Doyle on October 21st, 2013 10:12 AM |
Does a $13 billion fine such as that levied against JP Morgan represent justice?
I was asked by my friends at Global Economic Intersection to weigh in on the following questions regarding this penalty seemingly so large as to be hard to fathom.
Is the reported settlement appropriate?  Sufficient?  Insufficient?
How many criminal charges would be appropriate?  None?  Operational management?  Executive management?
If you believe the action by DoJ is appropriate, has it been timely?
Should there be similar action against other banks? (more…)
Posted by Larry Doyle on May 10th, 2012 5:32 AM |
A little over a year ago I became aware of robo-signing within the mortgage servicing industry and broached the topic that the activity likely rose to a level of racketeering. I aggressively questioned, Did Wall Street Violate the Racketeering Act?
Believing that the activity did likely rise to a level of racketeering, I recommended that attorneys general should pursue institutions involved in these fraudulent and abusive practices with a RICO action.
Well, it appears that somebody is now doing just that with specific focus on  activities that transpired at Bank of America and MERS (Mortgage Electronic Registration System). (more…)
Posted by Larry Doyle on December 18th, 2011 7:35 PM |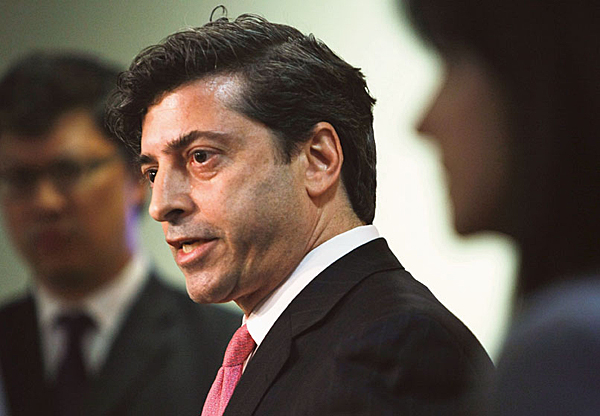 What do we think of the SEC's attempt to pursue former Freddie and Fannie CEOs Richard Syron and Daniel Mudd?
Is this a fully legitimate pursuit of justice against these executives? Could there be more than a whiff of political motivation on the part of the current administration buried in this pursuit?
As The New York Times reports the other day, SEC Accuses Fannie and Freddie Ex-Chiefs of Deception:
On Friday, S.E.C. officials trumpeted their actions in the Fannie and Freddie case as part of a renewed effort to crack down on wrongdoing at the highest levels of Wall Street and corporate America……….. (more…)
Posted by Larry Doyle on January 11th, 2010 9:28 AM |
Will America ever truly learn what happened on Wall Street that brought our markets, our economy, and our country to its knees?
We should not expect the incestuous Wall Street-Washington partners to implicate themselves and thoroughly expose their shortcomings. A full 16 months since the failure of Lehman Bros. and how much have we truly learned? What change has really occurred? Who has been fired in Washington? Who has been indicted on Wall Street? Will the Financial Crisis Inquiry Commission, charged with investigating the factors which facilitated our economic disaster, truly be effective?
The truth may hurt but if the hard questions are not asked, the failings are not exposed, and those responsible are not held to account, then the lessons will not be learned, and the experience will likely repeat itself.
Will the commission pretend to investigate, but ultimately wilt under the pressure of the incestuous pillars of power? Will the commission rise above the fray, hold people and institutions to account, and make our country proud?  Will the commission use its power to subpoena, if need be?
Whom should the commission pursue? What agencies and institutions should the commission target? If I were on the commission, I would recommend pursuing the following targets: (more…)
Posted by Larry Doyle on June 25th, 2009 6:33 PM |
This editorial, The Secret 'Friends of Angelo', in today's Wall Street Journal speaks for itself. Talking about regulatory reform is one thing, promoting real transparency and integrity is where the rubber meets the road.
Angelo Mozilo, the former Countrywide Financial CEO charged with fraud and insider trading by the Securities and Exchange Commission, had a lot of "friends." The Democratic leadership in Congress just doesn't want you to know their names — or the details of their loans from Countrywide.

What we know is that Senators Chris Dodd and Kent Conrad were among the VIPs who received sweetheart mortgages under the "Friends of Angelo" program. What we don't know is how many other government officials also received such favors, or what exactly Countrywide expected in return. A March report by Congressman Darrell Issa (R., Calif.) highlighted internal Countrywide emails in which executives debated whether the mayor of Billings, Montana, was influential enough to warrant a waiving of his mortgage insurance premium. The company ultimately decided that he was. We can only imagine what Countrywide's internal emails might say about the benefits of "friendship" with Mr. Dodd, who chairs the Banking Committee of the U.S. Senate, or about others who benefited from the program.

Mr. Issa doesn't want to imagine; he wants to discover the facts. He's asked Rep. Edolphus Towns (D., N.Y.), Chairman of the House Committee on Oversight and Government Reform, to subpoena records of the "Friends of Angelo" loan program from Bank of America, which bought the failed subprime lender last year. So far, Mr. Towns is noncommittal, and perhaps he is hoping that the issue will fade into the background during the long August recess.

In the world of Beltway politics, it's almost impossible to believe that a committee chairman would make such a decision without consulting the Democratic leadership. In 2006, while campaigning for a House majority, Speaker Nancy Pelosi promised she would run the most ethical Congress in history. We have here a documented effort by a company at the center of the mortgage meltdown to influence Members of Congress with favorable loan terms. Is there an argument against pursuing the facts and then sharing them with the voters who took Ms. Pelosi at her word?
Barack, Joe, Harry, Nancy, and everybody on the other side of the aisle as well: don't tell us you will be totally transparent, SHOW US!!!
LD
Posted by Larry Doyle on March 5th, 2009 5:50 AM |
I always maintained that Fannie Mae's risk management was horrendous. Having engaged this organization in business for many years, it was obvious that their risk was managing them rather than vice versa. While the organization mismanaged risk, their former CEO, Franklin Raines, obviously knew it was prudent to keep expenses down. Franklin Raines, however, knows how to play politics with the best of them and has never let his reputation get in the way of developing marketable relationships.
I wrote about Mr. Raines specifically and Freddie Mac and Fannie Mae in general in a piece last October.  I followed that up with a review of Mr. Raines Returns to Washington in mid-December.  (more…)