Posts Tagged 'Vikram Pandit'
Posted by Larry Doyle on December 18th, 2011 7:35 PM |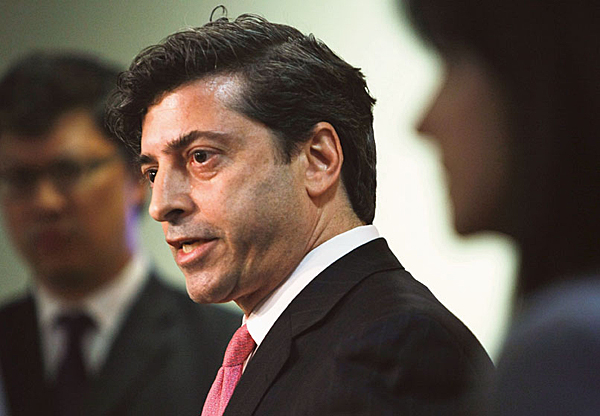 What do we think of the SEC's attempt to pursue former Freddie and Fannie CEOs Richard Syron and Daniel Mudd?
Is this a fully legitimate pursuit of justice against these executives? Could there be more than a whiff of political motivation on the part of the current administration buried in this pursuit?
As The New York Times reports the other day, SEC Accuses Fannie and Freddie Ex-Chiefs of Deception:
On Friday, S.E.C. officials trumpeted their actions in the Fannie and Freddie case as part of a renewed effort to crack down on wrongdoing at the highest levels of Wall Street and corporate America……….. (more…)
Posted by Larry Doyle on April 29th, 2009 7:15 PM |
Hasn't the public had enough of excessive compensation and abusive bonus practices for employees of organizations saved by Uncle Sam? Why and how is it that Citi Seeks Approval to Pay Out Bonuses.
Vikram Pandit, the CEO of Citigroup, and every other executive at Citi needs to know that as wards of the state, you earn a government wage. While Vikram and team may decry the dissolution of their franchise, they need to wake up and smell the coffee. There would be no franchise at Citi without the taxpayer having injected tens of billions of dollars.
Citi employees took the risk in choosing to work at the firm just as any employee takes company risk in any firm. If any Citi employee wants to leave, my advice is "don't let the door hit you on the way out."  Citi management may believe it is critical to the franchise to retain these employees in order to generate earnings and repay the government. My response is that with a Fed Funds rate at 0% and lending rates of between 5-20%, Citi will generate earnings without the risks embedded in proprietary trading.
If Citi can sell a division intact to generate income, why aren't they already pursuing it? The WSJ offers further color:
Citigroup is trying to get U.S. approval for special bonuses for many of its employees. In a meeting earlier this month with Treasury Secretary Timothy Geithner, Citigroup CEO Vikram Pandit made the case for the stock-based bonuses. Executives are describing the bonuses as "retention" awards to perk up demoralized employees who the company worries are vulnerable to poaching by rival firms, people familiar with the matter said.

A person familiar with Mr. Geithner's thinking said the Treasury hadn't made a decision on whether to allow the bonuses. It is unclear how much Citigroup would pay out in bonuses if the government approved the move. A Citigroup spokesman declined to comment on details of the proposed compensation plans.

Citigroup's request comes after Congress, the public and the president blasted pay practices on Wall Street. Bonuses at American International Group Inc. and Merrill Lynch & Co. ignited political infernos in Washington.

Citigroup has already gotten its own share of criticism for excessive spending, thanks in part to its aborted plans earlier this year to buy a new corporate jet. The company has received $50 billion in taxpayer aid, and the U.S. government is protecting Citigroup against most losses on $301 billion of its assets. The Treasury is poised next month to become Citigroup's largest shareholder, owning as much as 36% of its common stock.
Why is this issue even being aired? Why hasn't Turbo-Tim told Vikram and team, the answer is "NO." Two letters, "N" and "O". Which one of those don't they understand?
LD
Posted by Larry Doyle on April 27th, 2009 8:57 AM |
Larry Summers threw some cold water on the economy yesterday morning in stating his belief the economy will continue to decline for some time to come. Specifically,
"I expect the economy will continue to decline," with "sharp declines in employment for quite some time this year," Summers said today on "Fox News Sunday."
Is Summers positioning the administration for a forecast more in line with IMF projections than the Congressional Budget Office? Recall that the IMF believes the U.S. economy will have flat to only slightly positive growth in 2010 with a double digit unemployment rate. Those projections are decidedly weaker than projections previously employed by the administration.
Is Summers starting to manage expectations downward given what he sees on the horizon? I believe so.
Furthermore, Valerie Jarrett, senior economic advisor, offered hints of administration plans for our banking system this weekend, in stating:
"Whether management changes occur, whether banks are asked to raise more capital, all of that's going to come forth in the coming week," Jarrett said on CNN's "State of the Union" program today.
My instincts tell me that an advisor in Jarrett's position releases that statement in preparation for exactly those moves. Will this be Vikram Pandit's last week at Citigroup? Will Ken Lewis be forced out at Bank of America? I think the odds for either of those moves – if not both – just increased.
Management of any organization, including the White House, needs to maintain credibility by providing a reasonably accurate flow of information. The Sunday morning talk shows provide a forum and I think Summers and Jarrett provided solid hints at what is to come from the White House in the days and months ahead. Bloomberg provides a full summary of these points and others, Summers Says U.S. Economy to Decline 'For Some Time.'
LD