Posts Tagged 'Robert Khuzami'
Posted by Larry Doyle on March 22nd, 2012 5:31 AM |
The penalties handed out by NFL Commissioner Roger Goodell to the coaches and executives of the New Orleans Saints organization for the bounty program practiced down on the bayou were perhaps the stiffest in the history of the game.
Goodell has shown himself to be a no-nonsense individual cut from the mold of Kenesaw Mountain Landis. Goodell is clearly focused on protecting the sport, and knows that any program which promotes an intent to injure renders modern day football to little more than barbarism. (more…)
Posted by Larry Doyle on January 9th, 2012 7:09 AM |
Later this month, Northwestern Law will be hosting its 39th Annual Securities Regulation Institute in Coronado, California. In light of everything that has occurred on Wall Street and in Washington, one might think this could be a lively conference as it looks to provide:
A timely analysis of recent laws and developments in the corporate and securities law fields presented by senior SEC officials and leading practitioners.
While reviewing the conference invitation, I am particularly intrigued by one workshop to be held on Friday morning, January 20th. What is this workshop? Who is involved? Why am I so intrigued? Please stick with me here as we preemptively try to connect some dots.
Posted by Larry Doyle on December 18th, 2011 7:35 PM |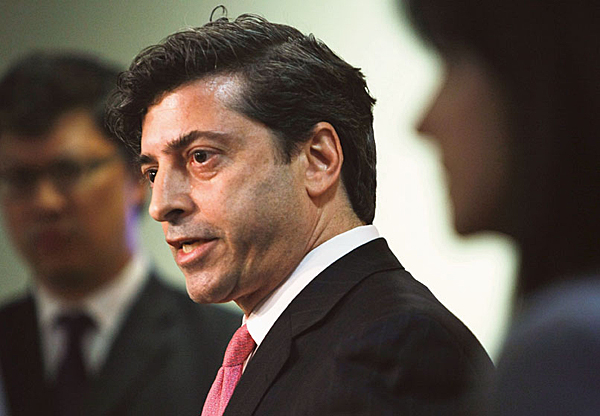 What do we think of the SEC's attempt to pursue former Freddie and Fannie CEOs Richard Syron and Daniel Mudd?
Is this a fully legitimate pursuit of justice against these executives? Could there be more than a whiff of political motivation on the part of the current administration buried in this pursuit?
As The New York Times reports the other day, SEC Accuses Fannie and Freddie Ex-Chiefs of Deception:
On Friday, S.E.C. officials trumpeted their actions in the Fannie and Freddie case as part of a renewed effort to crack down on wrongdoing at the highest levels of Wall Street and corporate America……….. (more…)
Posted by Larry Doyle on August 17th, 2011 4:33 PM |
BOMBSHELL!!!
Since early 2009 I have written at length about the regulatory capture that has dominated the financial industry. I have defined this concept in layman's terms as the Wall Street-Washington incest. Today a close friend and regular reader of Sense on Cents shares a story which blows the cover off this incest.
This story is written by Rolling Stone's Matt Taibbi, perhaps Wall Street's greatest nemesis. I commend him and those from whom he has sourced this information to have the courage of their conviction and the embodiment of the true American spirit to bring this story to light.
I ardently believe this expose should lead to public Congressional hearings and ultimately a federal judicial inquiry. Might it be the beginning of the end for Mary Schapiro? (more…)
Posted by Larry Doyle on July 26th, 2011 8:21 AM |
37 months and counting and still thousands of Americans holding untold billions of dollars in frozen auction-rate securities await the return of THEIR money.
The question of whether the injustice of all that went on in the ARS scandal might ever truly see the light of day seems to have long since been dismissed. Regrettably that fact would seem to mitigate a full understanding of the ARS mess and minimize the lessons that may otherwise have been learned by future generations. What a shame!!
Despite these realities, the fight goes on supported by the billions of reasons that may appear to be frozen in those outstanding ARS but are very much alive.
I have always maintained that the ARS market was the greatest scam ever perpetrated on Wall Street. What is new on the ARS front? (more…)
Posted by Larry Doyle on May 11th, 2011 3:34 PM |
There are few Americans in our nation today who have displayed a greater degree of integrity and character than Gary Aguirre.
Gary who?
Gary Aguirre is a former SEC attorney who sued and settled with the SEC for wrongful termination. After departing the SEC he continued to pursue the case which brought Art Samberg of Pequot Capital to his knees.
I highlighted Gary Aguirre, that case, and much more last December in writing, Connecting the Dots: The US Attorney, The SEC, Art Samberg, Pequot Capital, Hush Money, Lying and More. Today we hear from Mr. Aguirre.  (more…)
Posted by Larry Doyle on February 17th, 2011 6:30 AM |
Regular readers may be accustomed to my designating the relationship between our financial industry and the political crowd as the "Wall Street-Washington incest." The technical term for this relationship is regulatory capture, as defined by our investing primer:
…the process by which regulatory agencies eventually come to be dominated by the very industries they were charged with regulating. Regulatory capture happens when a regulatory agency, formed to act in the public's interest, eventually acts in ways that benefit the industry it is supposed to be regulating, rather than the public.
Bingo!! That's the incestuous relationship we're talking about.
Is the game really on the up and up? How does regulatory capture work? Who are the financial cops really protecting?
Thank you to the number of readers who pointed out to me an amazing expose of regulatory capture written by Matt Taibbi in Rolling Stone. Taibbi provides extensive detail in writing, Why Isn't Wall Street in Jail? This article is a must read. (more…)
Posted by Larry Doyle on September 17th, 2010 8:03 AM |
I truly believe this could be the single most important and enlightening commentary ever put forth at Sense on Cents. Although it is a little lengthy and has some legalese, if you care about truth, transparency, and integrity in our nation, take the time to read and review. You will be better for it. I encourage you to share it with friends and colleagues.
Washington still does not get it.
I strongly believe the deeply embedded Wall Street-Washington incestuous relationship was central to the erosion of our economic foundation. While that incest must be extirpated if we are to regain our economic standing, we continue to suffer through "show trials" dealing with the critically important topic of pursuing transparency across our political and financial landscape. Regrettably, the media in general provides limited coverage to this ongoing pursuit. To that end, I welcome banging this drum and engaging those in our nation who will ask the hard questions and put forth aggressive propositions so real transparency can be achieved. Even if the pursuit comes up short, the effort and goals are beyond worthy. Let's navigate.
Yesterday, the House Financial Services Committee chaired by Barney Frank held a hearing to address the SEC's exemptions from Freedom of Information requests embedded in the Financial Regulatory Reform legislation. Congressman Frank rolled out the red carpet to SEC Chair Mary Schapiro. From the testimony, Frank offers: (more…)