Posts Tagged 'Paul Ryan'
Posted by Larry Doyle on February 15th, 2012 10:17 AM |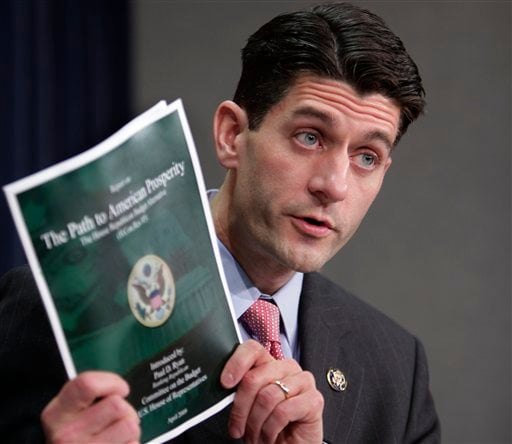 Markets manipulated by the presence of massive infusions of liquidity from central bankers may give the appearance of calm, smooth sailing but under the surface an explosion of epic proportions continues to build.
What is fueling that volcanic eruption?
Chronic deficit spending.
With our fiscal deficit having grown by trillions of dollars over the last few years, make no mistake the withdrawal pains and devastation from this out of control spending WILL be extraordinary. Not might be. WILL be. Borrowing from future generations may be a political art form in Washington but it is truly nothing more than a failure of governance.  (more…)
Posted by Larry Doyle on January 1st, 2012 12:41 PM |
America wakes up this morning hopeful for a new year filled with peace and prosperity. Sense on Cents welcomes spreading our spirit of optimism.
Before we move forward, though, let's take an accounting of 2011 and induct those most deserving into our Sense on Cents' 2011 Halls of Fame and Shame.
Prior to our induction ceremony today, I am sure there are many in the crowd who may want to review our past award winners. On that note, I humbly submit:
Sense on Cents 2009 Halls of Fame and Shame
From the above Fame and Shame lists, I believe the top three in each Hall deserve special recognition. On that note, the medals go to the following: (more…)
Posted by Larry Doyle on January 7th, 2011 6:03 PM |
The outline highlighted below needs no real preamble. The fact is this draft should be an American Mandate as it represents the ultimate 'sense on cents.' The time is long past due for some accountability in Washington. This mandate is the right start.
Much like the reflection of Capitol Hill in the photo to the right, the members of Congress may want to reflect upon just how elitist the entire body has become. Who in Congress has the balls and the backbone to propose this Reform Act? I am calling out each and every Republican and Democrat alike. Who's in?? You call yourselves Americans? Let's see it.
I thank the friend who passed this along and I would encourage others to spread this American Mandate!!
CONGRESSIONAL REFORM ACT of 2011………….. (more…)