Posts Tagged 'David Rosenberg'
Posted by Larry Doyle on July 28th, 2011 7:31 AM |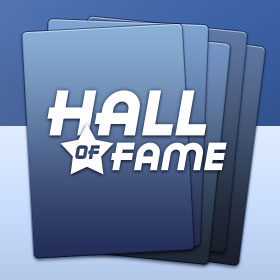 For those who love baseball, summer is not only a time for taking in a ballgame (like today's matinee at Fenway Park between our beloved 1st place Boston Red Sox and the Kansas City Royals) but also for paying a visit to the Hall of Fame.
Baseball fans of all ages love to make the pilgrimage to the hallowed hall in Cooperstown, New York.
Fans of Sense on Cents are well aware that yours truly has inducted worthy and deserving recipients into both wings of our own hall here over the course of the year. Just yesterday, I inducted Muddy Water's Carson Block into the Sense on Cents Hall of Fame.

While I take the boys to the ballpark, I hope readers, both new and old, may like to pay a visit to the Sense on Cents Halls of Fame and Shame a/o year end 2010.
I provided the following ceremonial tribute and induction at the end of last year.
Enjoy!! (more…)
Posted by Larry Doyle on May 4th, 2011 5:39 AM |
David Rosenberg is a Sense on Cents All-Star. While many do not agree with Rosenberg's overall assessments of the economy and the markets, I have untold appreciation and respect for his thoughtful and astute analysis. He recently spoke at an investment conference. Robert Huebscher of Advisor Perspectives captured Rosenberg's thoughts in his piece, My Breakfast with Dave.
For those with even a passing interest in the economy and markets, I strongly recommend even a cursory review of Rosenberg's remarks as he offers keen insights on a variety of angles and impacts embedded in the ongoing inflation vs deflation debate. What does Dave see for commodities, housing, interest rates? Read on….a wealth of 'sense on cents' awaits you. (more…)
Posted by Larry Doyle on April 12th, 2010 10:58 AM |
What is driving our markets higher? A rebound in earnings along with a rebound in the economy, correct? Well, let's take a quick look at corporate earnings.
Thanks to our Sense on Cents Hall of Famer and resident Economic All-Star David Rosenberg, we learn this morning that:
Financial sector profits have accounted for 85% of the overall increase in corporate earnings.
When I read this, I immediately think of the market akin to that gutless driver who jumps behind an ambulance as it screams down the street. Who is in that ambulance? Main Street. Who is in that car getting the 'free ride'? Wall Street. (more…)
Posted by Larry Doyle on February 11th, 2010 12:44 PM |
4th quarter 2009 GDP of 5.7% may have looked impressive on its face, but in peeling back the onion we learned that a large percentage of the growth was due to a slowing in inventory drawdowns rather than real growth. I highlighted as much on January 29th in writing,"Markets Fading the 4th Quarter GDP Report":
The question for the economy, and in turn the markets, is to what degree the supposed growth embedded in the 4th quarter GDP is sustainable. To determine that, people need to appreciate the fact that this 5.7% GDP figure was driven to a large extent (60%) by a slowing in the drawdown of inventories. Are you scratching your head wondering what that means? Let's just reduce it to the fact that drawing down inventories is not exactly a driver of growth at all.

What drives growth? Personal consumption. What drives personal consumption? Jobs.
Regrettably, we keep hearing from CFOs that they do not expect significant or meaningful job growth this year.
Over and above that, recent trade data will likely cause a revision lower in the aforementioned 4th quarter GDP. None other than our Sense on Cents Economic All-Star David Rosenberg projects that the increase in our trade deficit and overall weakness in wholesale trade will cause 4th quarter GDP to be revised to 5% from the initial 5.7% figure.
LD