Archive for the 'insider activity' Category
Posted by Larry Doyle on August 10th, 2013 6:02 AM |
What are you doing this weekend?
I hope the weekend allows you to spend quality time with family and friends. While I figure out some plans for today, tomorrow I will definitely set aside an hour to listen to the following:
Nationally Syndicated Business Talk with Jim Campbell.
Sunday August 11th @ 10-11am & 10-11pm EST

Powerhouse Lineup on Insider Trading
Gretchen Morgenson – Assistant Business & Finance Editor, New York Times
Charles Gasparino – Senior Correspondent, Fox Business Network
William D. Cohan – Author, Fall of Bear Stearns and Goldman Sachs
Anita Raghavan – Author, "The Fall of the Galleon Hedge Fund"

Topic: Steven A. Cohen and the Criminal Indictment of SAC Capital (more…)
Posted by Larry Doyle on April 18th, 2013 7:10 AM |
If transparency is the great disinfectant, then the stench emanating from Washington not only remains strong but just got a whole lot stronger. How so?
Recall that the STOCK Act, that is the legislation passed a year ago to outlaw insider trading in Washington, only came into being after a 60 Minutes expose embarrassed Congress to address this racket. Prior to that the legislation sat bottled up in committee for many years.
Well, if you had any real confidence that the STOCK Act would really clean out the insider trading stables in Washington, think again. With both old holes and recent new holes in this smelly piece of legislation, this act should be renamed the Molded Swiss Cheese Act. Thanks to the regular reader who brought this stench to my attention. Let's navigate.  (more…)
Posted by Larry Doyle on March 27th, 2012 8:07 AM |
Has trading on inside information now come to an end in Washington?
Congress will pat itself on the back and trumpet the passage of the STOCK Act as an indication that Washington has heard the hue and cry of the people to stop insider trading by the sycophants—that is, our elected representatives and their staffs— in and around Capitol Hill. The vote of 96-3 in the Senate was a strong indication as to how important it was to pass this legislation.
Now that the legislation has passed, should we assume that Congress is no longer in the business of personally profiting from trading on inside information? Not so fast.  (more…)
Posted by Larry Doyle on February 29th, 2012 6:27 AM |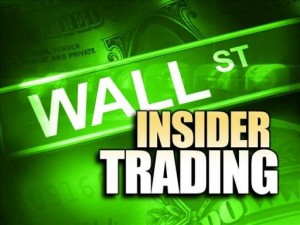 Michael Douglas? Have we gone totally soft?
Does America need to call on Michael Douglas, as the FBI recently did, to promote that "greed really is not good"?
Call me unimpressed.
Who would Sense on Cents like to see as the 2012 face to counteract insider trading activity on Wall Street? Not Michael Douglas, but more on this later.
There are many others to whom America might care to listen to understand basic virtues and values. That said, while many in America may be somewhat amused to see Douglas' face on the Wall Street Journal's front page, let's get a little more serious on this topic of insider trading.  (more…)
Posted by Larry Doyle on January 19th, 2012 1:15 PM |
As much as Wall Street is the center of the financial services industry, it is really a simple business that revolves around people and information.
That basic reality makes this business so fascinating. The personalities, the pace, the flow of data, and ultimately the interaction between counterparties make everyday a fascinating experience.
In order for Wall Street to thrive, though, and for our markets and economy to prosper, there needs to be a premise and a pursuit of fair dealing on a level playing field. (more…)
Posted by Larry Doyle on June 1st, 2010 12:03 PM |
Who truly knows more about a company's prospects than the executives running the operation? These executives, commonly referred to as insiders, are privy to sensitive, non-public information. Insiders are subject to severe restrictions in how they handle this information, and most importantly in how they manage their own finances.
Insiders selling company stock is not always an indication that the company is having problems. Insiders manage their own finances and will sell for a variety of reasons, especially for tax purposes. That said, monitoring insider activity is always prudent. Are there trends? Is activity heavily skewed in one direction or another? Is there a major inconsistency between insider activity and analyst recommendations? (more…)
Posted by Larry Doyle on October 19th, 2009 1:43 PM |
Twenty-two years ago today the equity markets crashed.  The Dow Jones Industrial average cratered by a whopping 22%!!
Have our markets, economy, and financial regulatory oversight progressed, regressed, or is it merely "deja vu all over again?" Well, with the markets up 1% on the day and 50% off the lows in March of this year, clearly today is vastly different than 22 years ago, right? Honestly, I would maintain that from a grand perspective very little has changed.  Why? How?
As much as we may have made technological progress on a number of fronts both on and off Wall Street, the fraud implicit in the illegal use of information is still very much central to the corruption that occurs on Wall Street.
Back in the mid to late '80s, insider trading activity was rampant in a number of hedge funds and leveraged buyout activities. The so-called king of Wall Street at that time was Ivan Boesky. As it turns out, Boesky was nothing more than a common criminal involved in a massive insider trading scandal. When Boesky was confronted with the evidence of his criminal activities, he turned on his cronies and sang like a canary. In relatively short order, some of Wall Street's titans fell like dominoes. Who were some of these titans? Dennis Levine, Robert Freeman, Martin Siegel, and Michael Milken. These masters of the universe were nothing more than white collar criminals.
Fast forward to 2009. The markets are rebounding and Wall Street is back to 'business as usual.' In a manner of speaking, the 'business as usual' is no different than the business that occurred back in the '80s. What business is that? Insider trading.
The story that broke on Friday in which a number of individuals at a few hedge funds supported by corporate insiders at IBM and Intel is certainly only the tip of the iceberg of insider trading circa 2009. Bloomberg addresses this certainty in writing, U.S. Said to Target Waves of Insider-Trading Activities:
Federal investigators are gearing up to file charges against a wider array of insider-trading networks, some linked to the criminal case against billionaire hedge-fund manager Raj Rajaratnam that shook Wall Street last week, people familiar with the matter said.

The pending crackdown, based on at least two years of investigation, targets securities professionals including hedge- fund managers, lawyers and other Wall Street players, the people said, declining to be identified because the cases aren't public. Some probes, like the one focused on Rajaratnam, rely on wiretaps. Others stem from a secret Securities and Exchange Commission data-mining project set up to pinpoint clusters of people who make similar well-timed stock investments.
I am sure there are individuals going home today wondering if their illicit activities will be, or already have been, detected.
Fraud driven by greed is a timeless activity made only more prevalent by an industry which has corrupted itself by diluting its regulatory oversight.
October 19, 2009 . . . deja vu all over again.
LD