Posts Tagged 'Larry Fink'
Posted by Larry Doyle on May 31st, 2011 7:43 AM |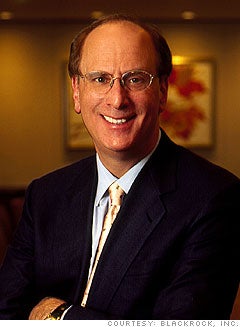 Here we go again.
Who is going to pay for the massive embedded losses in the European sovereign credits of Greece, Portugal, and elsewhere? Will it be the bondholders, primarily the European banks, or will it be the European citizens and taxpayers?
While this European "can was kicked down the road" over the last few years, the market pressure is increasing on Greece primarily but other European sovereigns as well. What might happen in this ultimate game of "financial chicken"? Who and what will break first?
Well the "king of Wall Street", Larry Fink, just stated on a Bloomberg interview that prior to any restructuring of sovereign credits occurring, the European banking system as a whole needs to be recapitalized and restructured. Fink actually stated that the European banks need what we here in America know as TARP (Troubled Asset Recovery Program). The TARP was in actuality nothing more than a massive bailout of the banks by the government. (more…)
Posted by Larry Doyle on March 1st, 2010 9:19 AM |
When the king of Wall street speaks, America would be wise to listen.
Despite what one may think or feel about Wall Street, prudence dictates we are fully aware of developments on the major thoroughfare of our economic landscape. The king, that is Larry Fink the CEO of the asset manager Blackrock, last year sent a note of investment caution to CalPERS (California Public Employees Retirement System) which all of America should heed. (more…)
Posted by Larry Doyle on November 5th, 2009 9:37 AM |
Those who take risk do not always win. A variety of mathematical models dealing with risk address and negate the chance of almost uniform success by one party. While those on Wall Street would promote the overwhelming risks in the industry, I would maintain that Wall Street circa 2009 is not in the risk business. How so? Let's review results from the firm regarded as the best at managing risk, that is Goldman Sachs.
The Financial Times provides insights into the Goldman Sachs 'casino' in writing this morning, Goldman Benefits From Trading Bonanza:
Traders at Goldman Sachs recorded only one daily loss in the third quarter, highlighting the trading bonanza sweeping Wall Street as central banks continue to pump billions of dollars into the financial system.

The performance – revealed on Wednesday in a regulatory filing – compares with two losing trading days in the previous quarter and confirms that the authorities' drive to revive markets after the crisis is yielding huge windfalls for some banks.

Before the crisis, banks regularly recorded trading losses on several days in a quarter.

Goldman made more than $100m in profits on 36 of the 65 days in the three months to September and recorded more than $50m in profit on more than eight out of 10 trading days, the filing shows.
To lose money on a total of only three days over the last two quarters defies rules of logic, assuming that markets are free, fair, and balanced. Even in Vegas the house doesn't win at that rate. The question begs then as to the nature of the supposed risks being taken by Goldman and every other Wall Street firm. Beyond the risks, we also need to question the very nature of the markets themselves. When a firm makes money 98% to 99% of the time, don't tell me they're taking risk. They are doing nothing more than 'shooting fish in a barrel.' How so? (more…)
Posted by Larry Doyle on June 17th, 2009 11:17 AM |
With the downfall of Wall Street over the last two years, we have seen some giants within the industry summarily dismissed and, in certain cases, demonized. Who knows what the future holds for Dick Fuld, Jimmy Cayne, John Thain, and Angelo Mozilo.
With their demise, who now reigns over the Wall Street kingdom?  Many would debate that either Lloyd Blankfein of Goldman Sachs or Jamie Dimon of JP Morgan Chase is the "king of the court." Well, Lloyd and Jamie certainly wield significant power and influence on Wall Street, but there is no doubt that the King of Wall Street is the CEO of BlackRock, Larry Fink.
Who is Larry Fink? What is BlackRock? How did he ascend to the throne?
I consider myself fortunate to have worked for Larry for the first 5 years of my career at First Boston. I learned the business under his watch. He was more than fair with me and I owe him a debt of gratitude for giving me an opportunity.
Larry came to Wall Street in the late '70s and is largely credited, along with Lew Ranieri of Salomon Bros., for developing the mortgage-backed securities sector. First Boston and Salomon dominated the MBS sector of the market in the '80s with a combined 70%-75% market share.  I certainly did not fully appreciate it at the time, but my 7 years at First Boston were a fabulous education.
During my last two years at First Boston, I did not work for Larry. He moved on to join Blackstone, a new private equity venture. BlackRock was a part of Blackstone and subsequently spun off.
BlackRock was initially a shop that primarily marketed mutual funds. Over the last 21 years, BlackRock has experienced tremendous growth, both organically and via acquisitions. Just the other day, BlackRock purchased Barclays Global Investors for $13 billion.  With BGI in the fold, BlackRock will have approximately $2.8 trillion in assets under management.
BlackRock typically gets the first call from Washington when workout situations arise. They were engaged to assess and manage the risks upon the demise of Bear Stearns and AIG.
BlackRock is recognized as the preeminent risk manager on Wall Street. In fact, one of BlackRock's most profitable units is a risk management division known as BlackRock Solutions. How uncanny that BlackRock has flourished based upon its risk management capabilities. Why? Under Larry's watch at First Boston in the mid to late '80s, risk management within our MBS business was almost non-existent.
I would never air dirty laundry nor talk out of school, but Larry himself has referenced this time period as being a tremendous education for him along with a sore spot. Let me expound. (more…)