Bill Cohan: Wall Street's "Sins of Omission Were Criminal in Nature"
Posted by Larry Doyle on June 28, 2011 9:52 AM |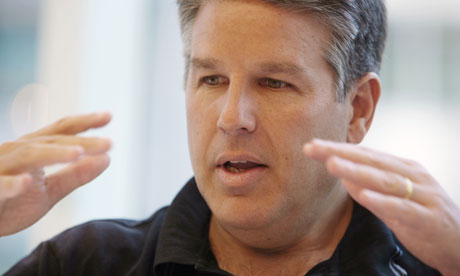 While America clearly needs real change in terms of how our financial and political systems operate and interact, regrettably we continue to suffer from the fact that, "the more things change, the more they truly stay the same."
We hear plenty from Tim Geithner, Mary Schapiro, and Jamie Dimon. We really need to hear more from Sheila Bair (highlighted this morning at Sense on Cents), Gary Aguirre, and Bill Cohan.
While regular readers of Sense on Cents may be familiar with Bair and Aguirre, Cohan has received less attention here. I will look to change that.
This former Wall Street veteran and current Bloomberg contributing editor possesses and voices many opinions fully consistent with those put forth by yours truly.
This morning Cohan caustically addresses the current status of the incestuous Wall Street-Washington relationship in writing, Obama Serves Lobster and Beets not Justice to 'Fat Cats',
….yet the only prosecutions we see are tiny fish like Fabrice Tourre of Goldman Sachs Group Inc. and hedge-fund honcho Raj Rajaratnam, who was a slimy inside-trader but had nothing to do with causing the economic meltdown.

Well, if the justice system seems stymied, at least we can expect President Barack Obama, who in 2009 referred to Wall Streeters as "fat cat" bankers, to lead the charge. Indeed, last week he went into the lair of the Masters of the Universe and sent them the strongest possible message: He asked them to pony up $35,800 a head for his re-election campaign and to have dinner with him at Daniel, the French restaurant on Park Avenue.

How lovely. About 70 cats got fatter that night — on lobster, roasted local beets, Kobe beef — and the president raised $2.4 million for his coffers.
What might that $2.4 million get the Wall Street titans? Hedging their bets? Buying a little protection, perhaps? Business as usual?
I strongly recommend you watch this 5-minute video clip and definitely do not miss Cohan's final bombshell when he addresses his take on whether Wall Street engaged in criminal behaviors.
With this performance, Bill Cohan gains immediate induction into the Sense on Cents Hall of Fame.
In terms of Bill's bombshell….navigate accordingly!!
Larry Doyle
Sense on Cents Related Commentary
Sense on Cents/Wall Street-Racketeering Act
Isn't it time to subscribe to all my work via e-mail, an RSS feed, on Twitter or Facebook?
Please get your friends and colleagues to do the same. Thanks!!
I have no affiliation or business interest with any entity referenced in this commentary. The opinions expressed are my own. I am a proponent of real transparency within our markets so that investor confidence and investor protection can be achieved.