Posts Tagged 'Employment'
Posted by Larry Doyle on November 13th, 2010 7:01 AM |
Who would not admit that the ability to review plays in athletic contests has made for an overall better product? While continually questioning calls and plays would obviously detract from the pleasure of the game, I think most – if not all – fans truly appreciate the benefit of reviewing critically important plays so the outcome and integrity of the game are not compromised.
Can you imagine if we had the same ability to review the release of economic statistics?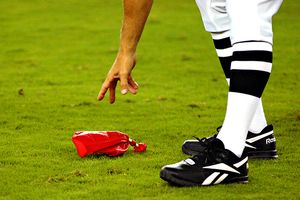 Picture this. A key economic statistic is set to be released at 8:30am. Traders and investors the world over are hanging on the edge of their seats in anticipation. The number is released and commentators immediately hype the 'headline'. But then, as those very commentators take their cameras to the floors of respective exchanges and trading floors, all of a sudden we witness a number of red flags thrown on the 'field' – that is, the trading floor – calling for a further review. In the hope of getting the call right, would our nation and our economy be better off if we allowed just such a process to occur? Why do I ask? (more…)
Posted by Larry Doyle on August 13th, 2010 8:06 AM |
Just what is the true rate of unemployment in our country? Our headline U-3 rate is currently 9.5%. Our U-6 rate, more broadly defined, is 16.5%.
Many people are aware of the differences between U-3 and U-6; however, renowned economist John Williams takes our analysis to an entirely new level. Williams is far ahead of the curve in his work.
William is likely not a regular on the Washington cocktail circuit. Why's that? He goes far deeper in his work and exposes inconsistencies, if not worse, in government statistics. Let's learn more about Williams and his work at Shadow Government Statistics:>>>> (more…)
Posted by Larry Doyle on March 16th, 2010 11:43 AM |
Is the White House reading Sense on Cents?
While I ask that question in a self-effacing fashion, I will allow others to pass muster as to whether my commentary deserves attention in Washington. Why do I ask that question now though? I wrote this morning, "What Happened to Focus on Jobs?":
The 'talking points' utilized by those in Washington project that our economy and markets are experiencing cyclical unemployment. I firmly believe they are wrong. Our economy and markets are experiencing structural unemployment.
Now it appears as if the White House 'talking points' have changed. (more…)
Posted by Larry Doyle on March 16th, 2010 9:38 AM |
If America and Americans are not at work, then how can we truly expect any other initiatives and undertakings to gain a foothold? There is nothing that generates more personal and collective confidence than a job. In fact, I would go even further and state that a job not only generates personal confidence for individuals, but ultimately a job very often defines a person's self-worth.
Then why is it that the topic of jobs is not the OVERWHELMING focus in Washington eight days a week? While President Obama elevated the focus on job growth in his State of the Union speech, the topic seems to receive front page coverage only on the first Friday of the month when unemployment statistics are released. (more…)
Posted by Larry Doyle on March 4th, 2010 10:01 AM |
What can we learn from those who sign the checks at over a thousand companies around our country? Let's review a synopsis of a recently released Duke University CFO Survey. This analysis, On the Mend, is presented by CFO Magazine:
At last, some good news. For the first time in more than a year, finance chiefs expect double-digit growth in earnings and significant growth in capital spending over the next 12 months, according to the Duke University/CFOMagazine Global Business Outlook Survey for the first quarter of 2010. Finance chiefs are also loosening the reins on technology spending, research and development spending, and marketing and advertising spending.

The welcome news doesn't come without a few troubling reservations, however. (more…)
Posted by Larry Doyle on December 17th, 2009 9:24 AM |
A recently released survey of CFOs paints a decidedly different picture on the jobs front than that portrayed in yesterday's Federal Reserve release. Let's compare, contrast, and navigate the most important trail on our economic landscape.
The Federal Reserve's statement yesterday:
Information received since the Federal Open Market Committee met in November suggests that economic activity has continued to pick up and that the deterioration in the labor market is abating. The housing sector has shown some signs of improvement over recent months. Household spending appears to be expanding at a moderate rate, though it remains constrained by a weak labor market, modest income growth, lower housing wealth, and tight credit. Businesses are still cutting back on fixed investment, though at a slower pace, and remain reluctant to add to payrolls;
In every report that I have read and heard, this statement has been portrayed as one in which the employment situation is improving. I am an optimist by nature, but one has to spin that statement very hard to view it as a sanguine outlook for jobs. (more…)
Posted by Larry Doyle on November 30th, 2009 9:34 AM |
"Kiss me!!"
"What?"
That's right, I said, "Kiss me!!"
Many a businessman is familiar with the basic principle of "kiss me," that is "Keep It Simple, Stupid."
Regrettably, Washington is not familiar with that simplest of business principles. Legislative bills that run into the thousands of pages and admittedly go unread by our lawmakers prior to vote are often an unmitigated disaster for American business.  How so?
These bills create an environment of uncertainty. What do business leaders do when they're unsure of what is coming out of Washington and how it might impact their business? "When in doubt, wait it out."
I witness increasing evidence of this basic business dynamic and believe it will be on full display this coming Thursday. What will happen Thursday? President Obama is hosting a Jobs Summit in Washington. Sounds like a reasonable idea given the domestic employment situation is so bad and getting worse, despite assertions to the contrary by a number of public officials and economists.
How convenient that the summit is being held Thursday. Why? This summit will provide plenty of photo ops and media coverage highlighting that Washington is hard at work addressing the employment situation right before the monthly unemployment report is released on Friday morning. Do not think for a second that the timing of this summit was not strategically scheduled to negate the negative impact of another weak report. (more…)
Posted by Larry Doyle on November 16th, 2009 2:20 PM |
Jobless recovery seems to be a phrase economists and analysts are using with increasing frequency. In my opinion, this usage is akin to a drug dealer or liar repeating his rationalizations to the point where he believes his own bulls%&t.
Are we to believe this economic subterfuge? I believe the American public buys into this rationalization at our peril. Why? Let's navigate along the most important leg of our economic landscape.
Our unemployment rate currently stands at 10.2% while the underemployment rate is 17.5%. On the heels of the unemployment report released on November 6th (see my summary here), many analysts and economists revised their projections for unemployment to 11% and some as high as 14%.
Just today, Fed Chair Ben Bernanke in a speech at the Economic Club of New York highlighted the fact that the current excess supply of labor in our economy is even worse than indicated. Ponder that for a second. The lead banker in our nation is telling us that our unemployment situation is even worse than statistics would indicate. What does that mean? (more…)
Posted by Larry Doyle on November 6th, 2009 8:55 AM |
The widely anticipated November Unemployment Report covering the month of October was just released. Let's dive right in and take a look at the numbers . . .
I. UNEMPLOYMENT RATE
July: 9.5%
August: 9.4%
September: 9.7%
October: 9.8%
– November Consensus Expectation: 9.9%
– November Actual:10.2% !!!!

>> LD's comments: this is the shocker and will get all the play. This rate is especially damaging because the participation rate declined. That drop would help the unemployment rate, all other things being equal. The fact that the rate jumped to 10.2% is an indication that job losses jumped much more than otherwise expected with a loss 558k jobs. The underemployment rate (U-6 rate) is 17.5%!!
II. NON-FARM PAYROLL (click here for definition of this term)
July: initial loss of 467k initially revised to a loss of 443k and now revised to a loss of 463k
August: initial loss of 247k revised to a loss of 276k, further revised to -304k
September: initial loss of 216k, revised to a loss of 201k, revised to a loss of 154k
October: a loss of 263k, revised to a loss of 219k
– November Consensus Expectation: loss of 175k
– November Actual: a loss of 190k with revisions of +91k to prior months

>> LD's comments: this month's print is slightly worse than expected, but given the revisions the overall non-farm payroll could be spun in a somewhat positive fashion. In my opinion, there has been massaging of these numbers for many months and dare I say market participants are questioning the integrity of the reports. Recall that the birth-death model has likely overestimated job creation by upwards of 800k jobs. More of the same here? Perhaps, if not likely. Temporary workers did increase by 36k jobs.
III. AVERAGE HOURLY EARNINGS
July: 0.0%
August: +.2% revised to +.3
September: came in at .3 but then revised to .4%
October: .1%
– November Consensus Expectation: +.1%
– November Actual:+.3%

>>LD's comment: a positive for those working, but in conjunction with no movement in the hourly workweek this is muted.
IV. AVERAGE HOURLY WORKWEEK
July: 33.0 hours
August: 33.1 hours
September: 33.1 hours
October: 33.0 hours
– November Consensus Expectation: 33.0 hours
– November Actual:33.0 hours

>> LD's comments: no indication here of any strength. This number rests at a low going back to 1964.
V. FURTHER COLOR
It's all about the headline print of 10.2%. That number will spook consumers and keep Consumer Confidence under pressure. The Fed will clearly remain on hold for as extended as extended can be. I expect this report will cause Washington to talk about the need for another stimulus package.

VI. MARKET REACTION
At 8:10am:
2yr Tsy: .89%
10yr Tsy: 3.52%
S&P 500 Futures: +2
DJIA Futures: +14
U. S. Dollar Index: 75.78
At 8:50am, Post-Report:
2yr Tsy: .85%
10yr Tsy: 3.47%
S&P 500 Futures: -8
DJIA Futures: -68
U.S. Dollar Index: 75.86
Questions, comments, constructive criticisms always encouraged and appreciated.
If you like what you see here, please subscribe to all my work here at Sense on Cents via e-mail subscription, an RSS feed, Twitter, or Facebook. All the links are on every page.
Thanks.
LD
Posted by Larry Doyle on October 28th, 2009 9:22 AM |
. . . would you be surprised? What would you do? What if the market declined by 20%? Would you be surprised? What would you do? How about if the market rose by 10% to 20%? Would you be surprised? I would.
The reason I ask these questions is an attempt to address the fundamental question as to what the market is telling us and what American consumers believe.
The equity market has traditionally been a reliable indicator of the future economy. The market provides a discounted valuation of future earnings. Those earnings drive companies and the economy at large.
As the market declines and prospects wane, businesses and consumers react accordingly. On the other side of the coin, as the market improves forecasting an improving economy, businesses and consumers react accordingly . . . until now. What is going on? (more…)