Posts Tagged 'deficit spending'
Posted by Larry Doyle on August 8th, 2013 9:01 AM |
What will future generations do with the massive tab that has been and continues to be run up under the guise of propping our economy?
That is not a rhetorical question.
Many individuals far wiser than I maintain that we will experience generational defaults as our children and children's children determine that the bills being left to them are not worth paying or able to be paid. That day may not be all that far off. In fact, it has already come in selected municipalities in our nation with surely more to follow.
For more on this topic, I thank the regular reader who shared a fabulous read by Oaktree's Chairman Howard Marks. Those with the time will appreciate the full memo. I welcome highlighting Marks' concluding comments in which he shares the wisdom of The Baupost Group's Seth Klarman as well: (more…)
Posted by Larry Doyle on October 8th, 2012 7:15 AM |
There is nothing inherently wrong with borrowing money. Taking out a loan to fund a business, buy a house, pay for education are all worthwhile endeavors for individuals and a nation alike. This said, there comes a point where imprudent borrowing and lending run the risk of fiscal calamity. That segment of our economic landscape is a distant  memory in our nation's rear view mirror.
My 8th grade son is mesmerized by the Debt Clock in the left hand sidebar here at Sense on Cents adding ~$5,000/second to our national debt. He asks me how our debt could have gotten so high and so out of control. For his benefit and that of others, I welcome providing another view of our nation's past and projected fiscal deficit.   (more…)
Posted by Larry Doyle on February 15th, 2012 10:17 AM |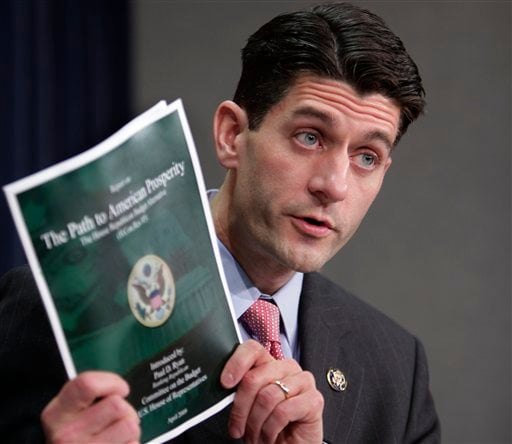 Markets manipulated by the presence of massive infusions of liquidity from central bankers may give the appearance of calm, smooth sailing but under the surface an explosion of epic proportions continues to build.
What is fueling that volcanic eruption?
Chronic deficit spending.
With our fiscal deficit having grown by trillions of dollars over the last few years, make no mistake the withdrawal pains and devastation from this out of control spending WILL be extraordinary. Not might be. WILL be. Borrowing from future generations may be a political art form in Washington but it is truly nothing more than a failure of governance.  (more…)
Posted by Larry Doyle on January 7th, 2011 9:15 AM |
Upon further review and with a little prompting from some regular readers, I am correcting an oversight and am pleased to now induct Congressman Paul Ryan (R-WI) into the Sense on Cents Hall of Fame. He clearly deserves it.
Why induct Ryan now? Well, listen for yourself as Mr. Ryan provides a healthy dose of Midwestern values along with a man-sized portion of 'sense on cents.'
Larry Doyle
Please subscribe to all my work via e-mail, an RSS feed, on Twitter or Facebook.
I have no affiliation or business interest with any entity referenced in this commentary. The opinions expressed are my own and not those of Greenwich Investment Management. As President of Greenwich Investment Management, an SEC regulated privately held registered investment adviser, I am merely a proponent of real transparency within our markets so that investor confidence and investor protection can be achieved.
Posted by Larry Doyle on July 26th, 2010 11:25 AM |
In the course of a discussion this past week, I made the point that I do not believe our economy has ever truly come out of the recession which officially began in December 2007. The National Bureau of Economic Research (NBER) is responsible for measuring the start and end dates for economic contractions and expansions. Why is it that the NBER has never officially declared an end to the recession? Interesting, very interesting.
On this topic, a good friend shared with me a fabulous piece which addresses our current economic health and the major hurdles for our future economic growth and prosperity. This piece, Quarterly Review and Outlook by Hoisington Investment Management in Austin, TX, addresses these hurdles in forthright, layman's fashion. (more…)
Posted by Larry Doyle on June 8th, 2010 7:41 AM |
What now?
As G20 nations around the world retreat from policies of continued coordinated fiscal stimulus, the question begs, what does the future hold for a world awash in crushing levels of overwhelming debt? Is the United States the only nation willing to stick to the script of classic Keynesian economics?
If only we could go back in time and ask John Maynard Keynes, the economic giant amongst economic giants, what he would propose now? Would Keynes stick to his classic Keynesian economics script at this juncture? Could Keynes ever have envisioned a world awash in so much debt? (more…)