Jalen Rose Leadership Academy: The Model for Urban Education
Posted by Larry Doyle on December 31, 2011 12:37 PM |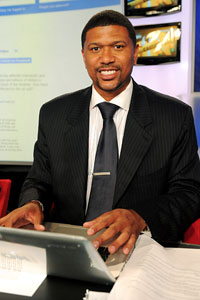 I am passionate about a number of things, including integrity, accountability, discipline, fairness, and opportunity.
I am not bashful in calling out those people whom I believe willingly and wantonly flout these virtues.
I also welcome heaping praise on those who not only embrace these virtues but then also go about doing something to promote them.
I typically immediately place these real American heroes into the Sense on Cents Hall of Fame. On that note and on this the final day of 2011, I welcome inducting Mr. Jalen Rose into our hallowed hall of heroes. 
Mr. Rose is most well known for his exploits on the basketball court, especially as a member of The Fab Five at the University of Michigan in the early 1990s. I applaud him for realizing that the path to real prosperity for the urban youth in Detroit is not on the basketball court but rather in the classroom.
Why?
As reported by bridges4kids, the graduation rate for Detroit youth in its public school system is just north of 30% with that figure registering a paltry 25% for Detroit's male student population. What do you think of those numbers?
While the reasons for these pathetic results can be debated ad nauseum, the simple fact is the urban education systems in our country are largely dysfunctional. What are we to do?
Let's embrace the Jalen Rose Leadership Academy in Detroit as the model for urban education in our nation. Why so? As The Wall Street Journal highlights today in The Weekend Interview:
Since the Leadership Academy is a charter school free to set its own schedule, the students spend 20% more time in the classroom than they would in Detroit's traditional public schools. The school day runs from 7:30 a.m. until 4 p.m. and the school year is 211 days, not 176. Only one student has dropped out since the school opened in August.

"We didn't cherry pick these kids," says Mr. Rose. "They chose us," he notes, through an oversubscribed lottery system. He adds: "Did you ever see the movie 'Waiting for "Superman"?' The excitement and the joy of families that got in here was similar to that." As the kids scurry past us between classes, they're in crisp uniforms. Several I spoke to exuded confidence—plus awareness that being here could be a life-altering experience.

So he threw out a life raft by starting his academy. "Only 28% of ninth graders in the Detroit public schools are graduating high school," he notes. The rest "become the statistic you read about in the newspaper. They are the people that are robbing you at the ATM machine."

Why's the situation so bad? "It starts at the top. A lot of the schools are poorly managed," he says. "Some of them have models that aren't set up for success. The kids have no interaction. They get lost."

At the Leadership Academy, "we have a 20-to-1 student teacher ratio and 10-to-1 in math and English. We want to invest in every young man or woman who comes here." That means tailoring achievement standards for every student. "There may be a kid reading at a fourth-grade level [when he enters ninth grade] who when he graduates is reading at a tenth-grade level. That's a victory."

His school also doesn't have tenure for teachers. "I hate tenure. Tenure allows teachers to put their feet up on the desk and possibly have a job forever. That's why I got turned on to charter schools. It's a business model. Every employee and every teacher will be monitored by performance."

Kids too: "We have a code of conduct here. If they act up, they're suspended. They come back with a better attitude."
Rose and team are displaying a whole lot of 'sense on cents' with a healthy serving of real love mixed in for good measure. How awesome!!
For those who believe that charter schools can not be implemented on a large scale, I say "why not?" Have we tried?
For those who believe that extraneous factors inhibit the ability to make meaningful change in public education, I say "we have no choice!"
The status quo or a close variation thereof is a surefire recipe for continued urban degradation and pathway to prison for too many of our urban youth. If you do not believe me, take a look around Detroit and other inner cities in our nation. How are they doing?
When will our political operatives in these cities stop trading favors for votes while allowing schools and the kids to wallow in the process.
I applaud the efforts of Jalen Rose and those like him who are working to promote real integrity, accountability, discipline, fairness, and opportunity in urban education.
For those who would like to read interview in its entirety, The Weekend Interview: From the Fab Five to the Three R's.
Larry Doyle
Isn't it time to  subscribe to all my work via e-mail, RSS feed, on Twitter or Facebook?
Do your friends, family, and colleagues a favor and get them to do the same. Thanks!!
I have no affiliation or business interest with any entity referenced in this commentary. The opinions expressed are my own. I am a proponent of real transparency within our markets, our economy, and our political realm so that meaningful investor confidence and investor protection can be achieved.